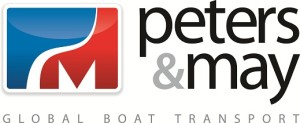 Peters & May, a global yacht transporter with their USA branch based in Dania Beach, Florida, was founded in Reading, UK in 1973 and was the first shipping agent to be based outside of a major port in Southern England. Peters & May quickly expanded, setting up strategic branch offices at Heathrow and Southampton.
In the early 1980s, Peters & May entered the leisure marine industry when it was contracted to provide race logistics to the growing number of global yachting events. These events included the prestigious Whitbread Round The World Race and The America's Cup, as well as individual racing yacht campaigns, all of which identified the professionalism and skills offered by Peters & May.
In line with its marine logistics focus, Peters & May appointed agents in key locations, including Antigua Yacht Services in the Caribbean, Masterpiece International in Newport, Rhode Island, and Pronto Clearing in Cape Town, South Africa.
Throughout the 1980s the company continued to increase its presence in the leisure marine industry, working with the UK 'Big Four' of Fairline, Princess, Sealine and Sunseeker; whose own businesses were expanding into Europe and required experienced shipping agents to undertake boat transportation of their premium brands.
Peters & May's success has been built on excellence and providing an unrivalled service over the decades. Today it's seen globally as the world's leading boat transport provider.