Tugboat and Barge Companies Seattle, NW Underway: Ship Canal Marine Traffic – The Puget Sound, Seattle Ship Canal, Ballard Locks, Ballard Bridge, Fremont Bridge, Fremont Cut to Lake Union, 24/7 Seattle Tug Boats, Captains and Crew east and westbound in the Pacific Northwest. Photography by: Salty Dog Boating News, Salty Dog Maritime Marketing, Up & Down-Hill Marine Traffic Underway Source!
Western Towboats, Ship Canal Marine Traffic
Western Towboat, Tugboat Traffic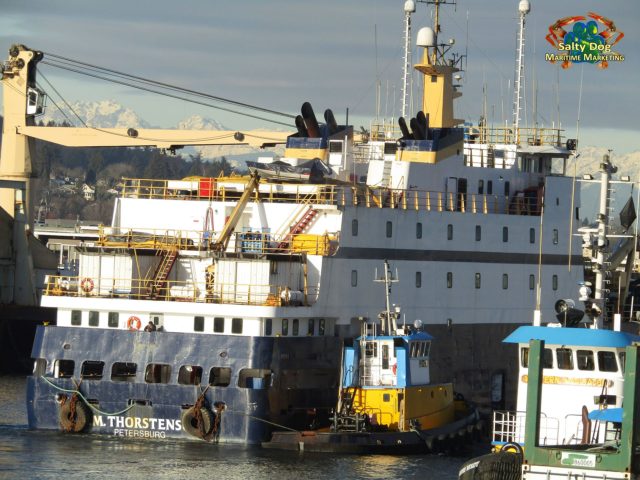 Ship Canal – Tug Boat Traffic Underway!
Fremont Tugboat Company, Foss Maritime, Seaborn Pile Driving, Waterfront Construction, Puget Ballard Locks, Blackwater Marine Construction, Sonja H. WA Ship Canal Busy Tugboat & Barge Marine Traffic Underway
Tug Boat Sonja H. Barge Callapooya, Morning Sunrise Westbound Ship Canal
Fremont Tug Boats, Fishermen's Terminal, Assist to Defender, Global Seas Boat
Western Towboat Tug Wasp & West Point, Starbound Assist, Aleutian Spray Fisheries
Western Towboat, Tug Wasp & Flyer doing a barge flip in the narrow ship canal directly in front of Fishermen's Terminal, Captain's & Crew making it look easy while making the canal look tiny during this giant barge flip!
Tugboat & Barge Marine Traffic – Seattle Ship Canal, Lots of Gravel Barge Activity in the PNW!
100 Years – CONGRATULATIONS to Fremont Tugboat!