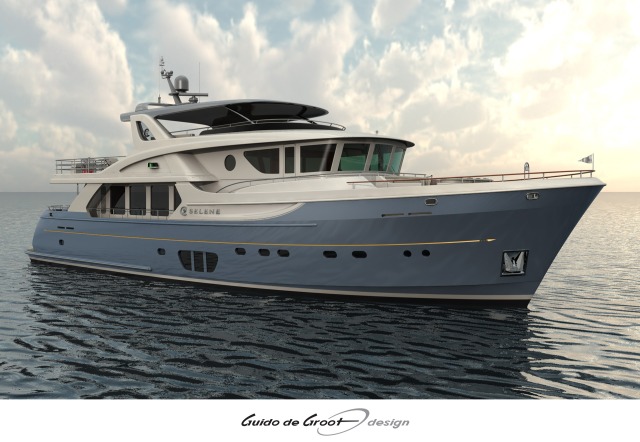 Selene Ocean Explorer,  Selene 92 – Trawler New Build Update: Good things are worth the wait and the Selene Ocean Explorer Series 92 project is one of those that many of us have all been waiting to see. The 92, the first of the Ocean Explorer Series, is getting close to launching. Expected to splash earlier this summer, the schedule was pushed back as resources were coordinated with additional labor added to the project. China is booming and as one builder said to me "…if someone does not have a job in China, it is because they don't want to have one". Selene has been able to get through this and now has 12 other Selene builds as well as 2 other commercial projects underway, over 800 feet of new construction, in addition to a gorgeous new Selene 66 just delivered in September to an Australian second-time Selene owner in 13 months.
The Selene 92 is the largest project that Selene has built to date. The largest Selene built before this, the Selene 66, has been part of the extremely popular Selene Ocean Trawler line ranging from the Selene 38 to the Selene 66. With more than 250 Selene Ocean Trawlers launched over the last 15 years, the Selene brand has been one of the best selling trawler models in the world. Soon the Selene family will see the 92 delivered with an even larger Selene 103, also by Guido de Groot, which is a new hull heading to production and delivery in 2016. The Selene family is growing in size adding the Selene Ocean Explorer Series 78 to their largest design, the 128. Currently there are molds for the 78, 92, and 103 and designs for a 116 and 128 by Guido de Groot and Howard Chen.
The Selene Ocean Explorer Series offers the Selene 68, 78, 92, 103, 116, and 128.
The Selene Ocean Trawler Series is the Selene 38, 42, 42 Eurodeck, 50 Eurodeck, Selene pilothouse 45, 47, 49, 54, 56, 58, 60, 62 and 66.
All of these are designed to retain the balanced weight distribution and trawler styling of the Selene brand, excellent sea-keeping capabilities, and ocean capabilities Selene has built over the last 15 years on modern hull design.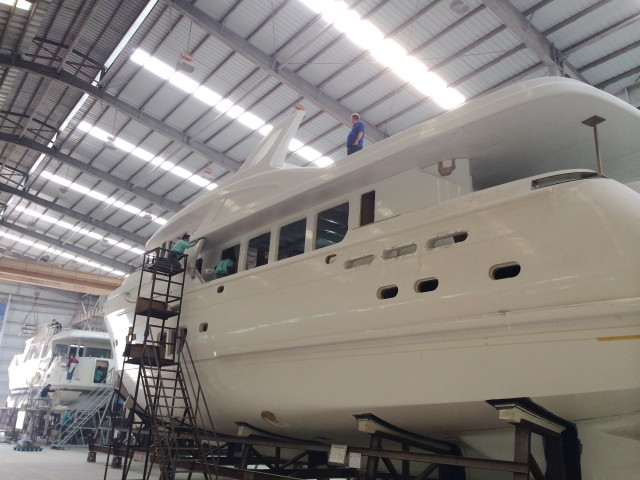 The Selene 92 is a Guido de Groot and Howard Chen collaboration that blends the rugged build of the Selene brand with the European creativity of Guido de Groot styling. The vision became apparent when the hull first left the mold, and now that construction is around 85%, excitement grows as a very rugged and aggressive looking ocean capable trawler evolves. With the genetics of the Selene Ocean Trawler Series, the larger Selene Ocean Explorer Series adds Guido de Groot design refinements for an even more rugged, balanced, and stylish full displacement trawler.
Once at the yard, I head right to the main building shed to see the 92. The graceful lines of the hull meet the aggressive de Groot windshield line that really sets this yacht apart from the crowd. I appreciate the balance the Selene 92 shows in its design, a theme that you can see in Selene from their smallest 38 to the Selene 92. It currently resides with other builds, a Selene 60, Selene 80, and the Selene 103 hull being laid up. I work with the yard manager, project naval architect, and department heads, as well as the owners to review the progress of the build. During each visit we research equipment specifications and requirements for items we want to add to the project, as well as sourcing parts and supplies for the project to date.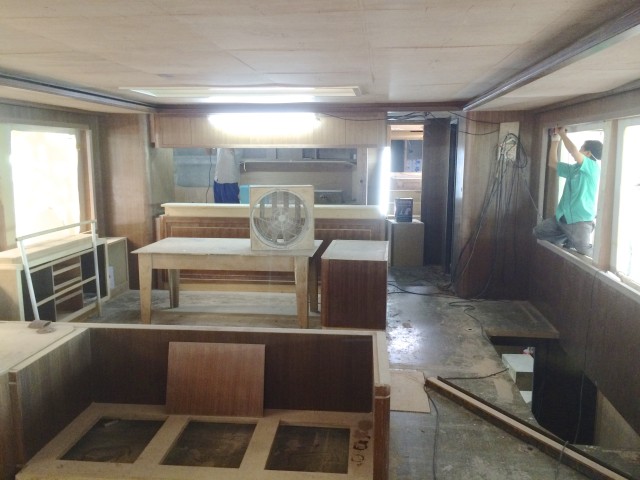 Background on the Selene 92 Ocean Explorer – I've been involved with the project since early 2012 as the Sales Manager with Selene Seattle, the US hub for 78 – 128 foot Selene Ocean Explorer sales in the North America in conjunction with authorized Selene Dealers. The owners of this new Selene 92 are also second-time Selene owners from Canada. They have been very involved during the build making multiple trips to the shipyard. My own shipyard visits have numbered 6 and counting, with a total of 15 with this and other project visits. Each involves 15-hour flights as I travel from Seattle to Hong Kong.
It is a series of complex tasks that can be time consuming while at the yard and more when back home. With a brand new model, the process of checking and re-checking equipment and materials specified by the Owners and Designer is on-going. Getting onto the shop floor to get proper measurements helps us confirm details as the build progresses. Future Selene Ocean Explorer builds from 78 to 128 will benefit from our knowledge, experience, and attention to detail.
Another area we took a good look at the helm seats in the wheelhouse. We reviewed the space between them and the observation-seating table so that we could pass by the helm seats to get to either side deck doors. The Guido de Groot design is fantastic, as were the detailed renderings that gave us a feel for exactly how it would look when finished. 3D rendering for specific areas such as the tanks and engine room also helped us determine the best placement for systems such as the water maker and black water treatment system.Examples of this might be the height of the compression post for the tender davit. The owners were deciding between a Boston Whaler 18 foot tender and another brand of tender, which changes the freeboard measurements, which affect the tender davit height for the way the Selene Owners wanted to rest the davit arm when stored. Central vacuum models were reviewed to learn how the canister empties – can we use a drawer-empty or drop-canister in the space we want to locate the vacuum? We also looked at the pump insulation and mounting for the foredeck hot tub and how to ensure it can be serviced while building the enclosure with the expectation that it very well might have tons of water slamming into it in big seas. No detail was too small, or annoying to keep bringing up until we were happy with the result.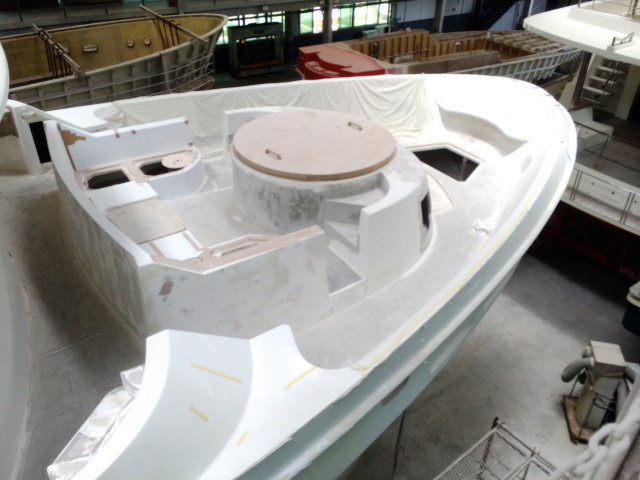 Knowing how to maintain these systems, how to service filters, knowing how you can save space or improve something based on real-world experience over many years were the themes I brought to the project. I have over 3,000 pictures of the entire project of the obscure details behind cabinets, under tanks, the underside of lockers, decks, and along wiring runs. In the past, photo libraries taken on other projects managed has helped me find solutions to additional electronics installations, troubleshoot issues, and quickly solve an issue by saving me time to trace wires or plumbing.
All are examples of where getting aboard during construction for a feel of the space, as well as access to specific measurements can ensure that the idea on paper performs as well in the real world. Both the owners and I know that everything can look great in the magazines photos, but when the boat is out running off some coastline at night, the ability to tackle a problem that comes up, or service something choosing that time to fail is critical. Big seas can make things very uncomfortable and knowing those challenges helped us build it to perform well, whether cruising in flat calm or rough conditions. As a captain I have had those stressful moments running yachts and used them to provide critical thinking for systems, lessons learned from my own experiences and those of my fellow captains to make these Selene owners dreams of a great boat happen.
The Selene 92 has had several layers of design review and oversight that starts with the engineering and design by Howard Chen and Guido de Groot, the engineers and naval architects at Jet Tern Marine. The owner of the boat also wanted this project to be based on RINA classification. RINA stands for "Registro Italiano Navale", the Italian classification society which provides ship classification and testing, inspection, and certification, engineering and consulting for clients in the marine energy, transportation, and infrastructure, and more.
Having a history since 1861, RINA is a global provider for these services and one of 11 classification societies that are well-known in the marine industry. One of the main goals of incorporating RINA in the Selene 92 was to provide a third-party oversight to the project as they perform the statutory duties for the major flag administrators, the governments of the state flag of the yacht will to fly.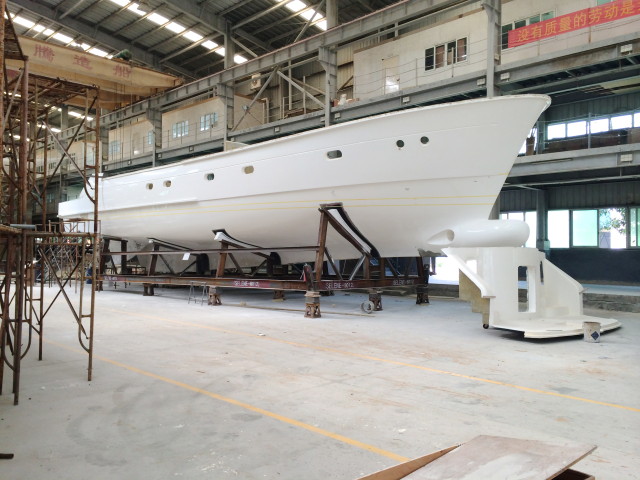 Under RINA specifications, the detailed drawings, equipment and materials will need to be reviewed and be approved as part of the specifications. RINA rules assess the integrity and structural strength of essential parts of the hull, function and reliability of propulsion, power generation, steering systems, and the other features aboard that provide the main services of a yacht. Everything from the shape of stringers, type of materials, strength of materials, and more are detailed to RINA specifications as part of the project. While Selene already builds their boats to ABYC and other US and CE Category A standards, RINA provides construction standards over and above those, as well as materials and equipment standards that are verified as they go into the construction of the yacht.
Additionally, the owner of this new Selene 92 will register with Cayman Islands as the flag state and have MCA standards as well. Flag states set the safety standards and manning requirements. MCA stands for Maritime Coast Guard Agency, the British organization that is responsible for maritime safety for the United Kingdom. Their oversight standards work with the safety and comfort of passengers and crew aboard. From fire protection standards to berths available to life raft access, these standards provide the universal meaning in the international regulatory framework of yachts around the world.
RINA and MCA – how does this help a buyer?
One of the benefits of adding these standards in their Selene Ocean Explorer is the added oversight of specifications and materials, and construction techniques that give a yacht internationally recognized standards yacht owners would like, in addition to those already incorporated in Selene trawlers. This extra level of oversight is important when considering registering for commercial charters under specific flag states or for added resale value to a future buyer wishing to enter it into charter service.
A buyer may not choose to add the high costs and classification requirements, as many other brands may not be required for the size and flag of their yachts. The RINA and MCA specifications are a great way for an owner to ensure that their yacht is built to international standards and are inspected during the build. You can choose to build a Selene 92 with the already excellent standard specifications or upgrade to RINA and also MCA, if desired. You don't need these, but depending on the service you want to use your Selene 92 for and the flag you will register, this might be of interest. This will add roughly $100,000 to the cost of the boat.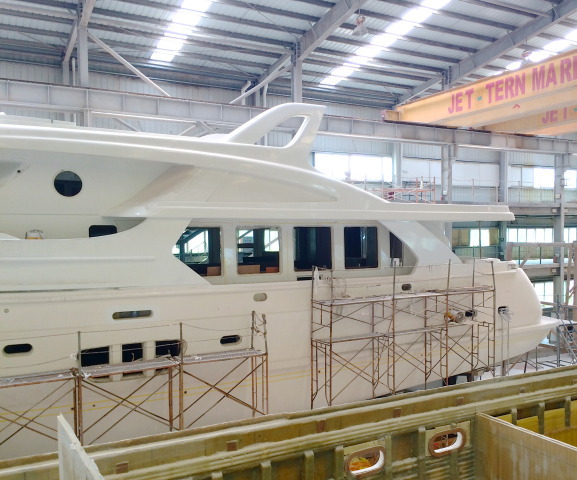 Construction Progress Visit for October
My visit this October had me participating in the Cayman Island's survey with their representative surveyor, a very technical and detailed fellow from Southampton, England. We spent the day going through the boat in each and every area and relevant system, including those that we added or had questions about, such as the reserve fuel for the tenders located on the boat deck.
Having an approved reserve tank system is an excellent way to have a refuel capability in lieu of jerry cans. The tenders can get refueled on deck and not while floating where a chance of a fuel spill is greater. Like a custom home, there are findings, notes and reports to review and research. Any areas that need additional review or adjustment are noted and the yard tackles them as required. Given this was to be the first of other RINA and MCA projects for Jet Tern Marine, they have done a pretty good job for their first 92 Selene Ocean Explorer.
There are plenty of so-called "specialists" or "expert" salesman out there, but maybe they are more skilled at convincing people to sign on the dotted line than actually running, maintaining, and managing the construction process that can take a year or more. It is much more than just getting a buyer to write up a boat. The work has just started for the professionals that bring it all together over the life of the build.
After the shipyard MCA survey for the Selene 92, the Cayman Island Surveyor and I had dinner that evening. We had a good laugh at the differences he saw in my approach and the other style of brokers that left frustrated owners in their wake. I have worked with a number of excellent brokers that also have this work ethic and they help their buyers enjoy the whole process. There is nothing more satisfying than getting an owner out on his new yacht and putting it through the paces. That raised glass at the end of the day is always cherished.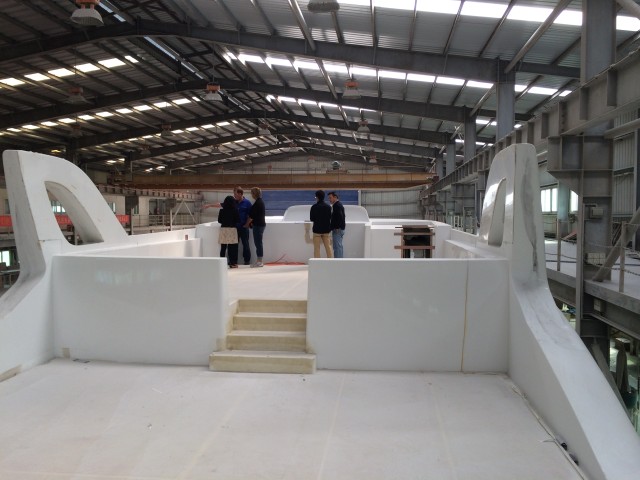 I enjoyed the 2 days I spent with the Cayman Island MCA surveyor, who seemed mystified that a broker like myself was spending so much time and attention to the project, as his experience has not seen that before meeting me. Not being the sell-and-forget type, I like the build process, enjoy helping coordinate practical experience of running yachts and rough conditions, and making sure that these owners get a great new yacht. With flag state manning requirements, Tier 3 engine requirements, and other new rule implementations, I like to keep current with those that affect an owner choosing to upgrade to RINA and MCA requirements.
It's not the first time I have been commended for not being a typical broker. As a captain, I make sure to be aware of the owner's time and funds from experiences on both the sales side and operational side of building a new yacht. As a broker, I want to make sure everyone is on the same page, that lines of communication are clean without too many inputs to confuse change orders, and to ensure that the yacht is built to the specifications on the contract.
How long can a new yacht project take?
I am now in my 28th month of this Selene 92 project. This is typical of the size when built from order to delivery for a number of other yards. The ability to build on spec means a shipyard is able to begin the construction process before a customer has bought a boat in the hopes of finding a buyer for that hull before the project completes or when the boat completes and is available. The closer a boat is to delivery, the less able a new buyer has to add or change equipment and other selections to tailor it to their cruising needs. This first Selene 92 had been planned as a 36 month process in bringing an entirely new design to market, as well as the largest project at just under 200 gross registered tons. Now that the new Series has been developed, the construction time will be less.
Should you wish to build a Selene 42, you may expect around 9 months, a Selene 54 about a year, and a Selene 66 to be around 12-14 months. Selene will begin to build a number of stock boats to reduce the order time. But with this new Selene 92, the new tooling and hull and deck molds also take time to design, have the 5-axis machine create the tooling, and then finally laying the hull and deck.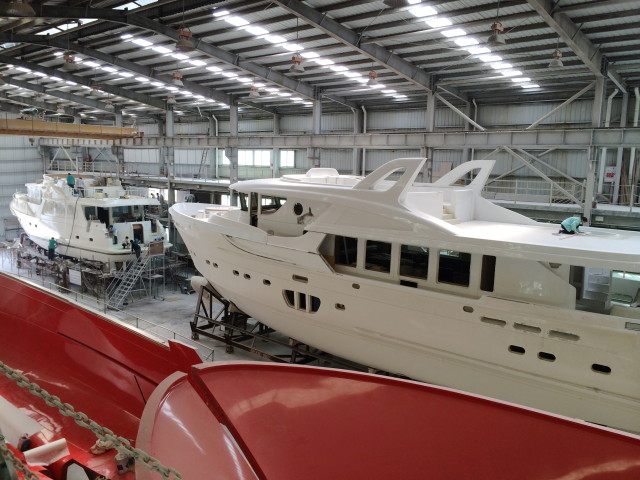 When a shipyard takes on such a large and complex project there is a great deal of capital needed, organization and resources, as well as a bevy of professionals that brings it all together. As a captain I bring my experiences that I have had visiting over 35 shipyards around the world and practical cruising knowledge of systems and maintenance. I also have gained large yacht training for construction practices and design while working a once-in-a-lifetime internship-style training program at Benetti Yachts and their 3 shipyard facilities in 2006 and attending training visits at some of the largest yacht builders in Northern Europe, such as Oceanco, Feadship, Heesen, Abeking and Rasmussen, and Amels. As part of a San Francisco owner's crew in 2002, I also helped manage the project of a 106 foot tri-deck project that we took from a drawing on a cocktail napkin to being at the helm cruising the Bahamas, Mexico, and Alaska. In the years since I have been able to return to run the boat for long transits to and from Alaska and other destinations and see the ideas and efforts during construction in practice years later, with good results.
New yachts take careful planning and patience. The complexities of building, finding solutions to issues that come up during the build, and regular visits by owner's representatives or classification surveyors are coordinated so that the dream of a new yacht is brought from the yard floor to the dock. I have always liked projects like these and the Selene 92 project has been challenging and quite interesting. Each time I visit I am more impressed with the Selene 92 and excited to get it out cruising. It will be a very cool, very tough boat.
Any builder that does not have challenges to overcome with their yachts isn't telling you the truth. We are asking yacht builders to put together a list of materials that is thousands of items long, throw them all together, put the boat into the water, then ask it to move 3 dimensionally, sometimes pretty roughly. Having been through this new build from the start of construction, I am confident that this is a very rugged yacht and will definitely turn heads when it arrives in marinas around the world.
Selene defines a new line with the Selene Ocean Explorer Series
A new model goes through extra testing by the naval architects, engineers, and those experiences that owner, broker, builder bring to the project, and outside agencies assist with, as they have for the Selene 92. Additionally, this owner asked that Greg Marshall Design do a design review brief to go through the Selene 92 specifications and design plans to see what areas could use attention, modification, or enhancement for the capabilities desired by the Selene 92 owner. Greg Marshall Design made their recommendations and worked well with Jet Tern Marine at the onset of the project, as well as with the Selene 78 design. Their goal was to provide a review and make recommendations based on their own experiences with a variety of projects and builders.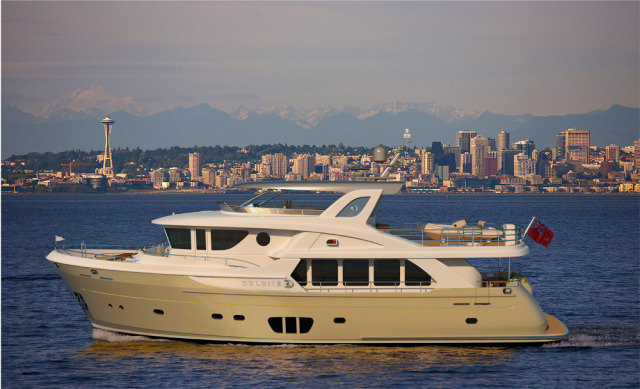 Selene Ocean Explorer 78′
My involvement in this Selene 92 project from the start of construction along with the thousands of photos for each stage of construction, creates a wealth of knowledge and reference library to review. This creates an invaluable resource for owners and captains when needing to access to wiring or plumbing, whether during commissioning or years from now to install a new piece of equipment or system. Owners and captains will appreciate not only knowing how to service something, they will also know how to get to it and what it will look like behind all the gorgeous overheads, behind wall panels, or under foot.
Safety and serviceability were goals that we looked at with a critical eye. My mission was to always assume that something will leak, break, fail, or smack you on the head, knees, or fingers, or that a big wave would make every effort to dump lots of water on the boat every once in a while. Foul weather can sometimes produce foul language. We also worked to find improvements from the owners past boating experience and to bring those wish-list items, as well as fine-tune the new features that this project would incorporate. In short it has been a fantastic challenge to work through these details.
We are getting closer to launching the Selene 92 and the final commissioning for the boat, which naturally is an exciting event. Buyers that are interested in seeing it in a North America boat show sometime soon will have to wait a while. The Selene 92 owners will be cruising from the Hong Kong to their new adventures in Southeast Asia and Australia. I'll work with the owners through final commissioning and delivery, as well as possibly their first cruise. I will also get additional photos and video once sea trials begin. Until then, keep an eye out for additional newsletters.
If you are looking for an excellent expedition yacht that has character, internationally recognized specifications, and long-range, ocean capabilities, give me a call about the Selene 78, 92, 103, and 128. Guido de Groot has been very helpful in both design and also during the build. The folks at the shipyard are also proud of their efforts on the Selene 92. The Selene owners have been exceptional in their dedication to getting their project to this point. We all look forward to getting the boat launched and then out cruising.
What is the purchase process for the Selene 92?
We have 4 Selene Dealers in the North America that can help you with the process. They are Selene California, Hampton Yacht Group in the Pacific Northwest, Selene Annapolis, and Luke Brown Yachts in Florida, (my counterparts in Florida are Captain Kiki Bosch and Steve Deane), as well as the Selene Dealers in Europe. They can help you get your Selene 92 set up for the way you would like to cruise in your area.
If you do not have a favorite broker you are working with yet, let me know and I can put you in touch with one of our dealers so they can help you review specifications and work with you on your interior design desires. Their local knowledge of your cruising area, coupled with their ability to coordinate service and warranty in your area give you the best resource for maximum enjoyment. If you are not in one of those areas served by our Selene Dealer network, I can help you with the process as the Selene Seattle shipyard-direct office. Building a 50 foot yacht is very different than anything over 70 – 80 feet and working with a broker that understands this will help an owner get a much more satisfying result, especially when working with Class and Flag state requirements.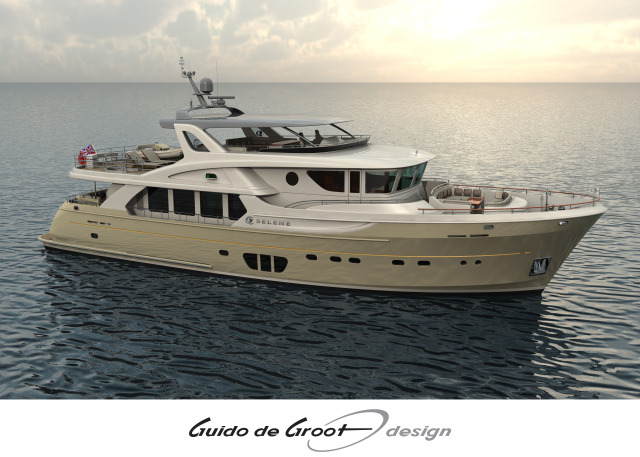 A new build may not be for everyone, given that the next Selene 92 build will have a construction schedule of 20 to 24 months. With the equipment and specifications this Selene 92 will run just over $6,250,000 for a complete, ready to cruise yacht delivered to the United States. That includes ABT-TRAC at-rest stabilizers, dual water makers, twin engines, electronics budget, interior design budget, time to discuss your layout and interior wishes with Guido de Groot, as well the long list of standard equipment and options as built for this current Selene 92. Each new yacht will have it's own specifications as required by their owner, so prices will reflect these additional specifications.
The purchase process begins with coming up with your specifications that you require, from engine brand to electronics budgets and interior budgets. Once these are reviewed we can solidify pricing, write up the contract, and place a deposit to begin construction. Progress payments are then made at milestones through the construction process for milestones such as hull-mold release, deckhouse release, when hull and deck are joined, major mechanical installation, etc. There are typically an initial deposit and 7 payments over the life of the build.
Builder's risk insurance and project management, as well as engineering support are additional services that can be added should you wish. You don't need to make shipyard visits if you do not wish to travel as much, so adding a project manager to make these visits can help us coordinate with the shipyard through the progress of the build on your behalf.
If you are an owner or captain that is interested in learning more about the Selene 92, send me an email. I am looking forward to getting the Selene 92 Ocean Explorer in the water and through final commissioning. I'll let you know the cruising schedule so that we can get serious buyers aboard to see the Selene 92 in its natural environment – the ocean.
(Captains – the crew area is very nice.) (Owners – yours are even better!)
For More Information:
Captain David Kane
Certified Professional Yacht Broker USCG and MCA captain
Selene 78 -128 Ocean Explorer projects

Email: SeleneOceanExplorer@icloud.com

Cooperating brokers are welcome to contact
Captain David Kane for their clients.
Making boating dreams a reality!