Pacific Seafood Processors Association
Pacific Seafood Processors Association, PSPA- is a nonprofit seafood industry trade association. Its corporate members are major seafood processing companies with operations in Alaska and Washington. PSPA was founded in 1914 to foster a better public understanding of the importance of the seafood industry, and has been in continuous and active existence since that time.
Pacific Seafood Processors Association member companies purchase, process, and market hundreds of millions of pounds of salmon, pollock, crab, cod, halibut, and other species of Alaska seafood. They have made large capital investments in the communities where they operate. They provide thousands of direct and indirect jobs and markets to thousands of commercial fishermen, and contribute millions of dollars in tax revenues that provide important services and support the quality of life in Alaska and Washington.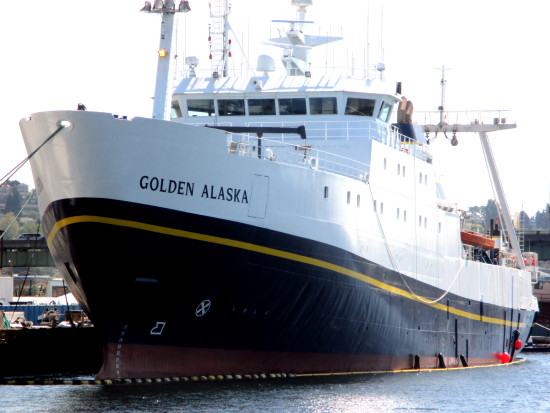 Golden Alaska is Part of the Pacific Whiting Conservation Cooperative
PSPA is committed to the sound management and long term health of fishery resources and protection of the marine environment upon which those resources depend. They are also committed to providing good jobs and a safe, rewarding work environment to their employees, economic benefits to the region; and high quality, healthful seafood products to consumers. PSPA is proud to represent their member companies and support them in fulfilling these important commitments.