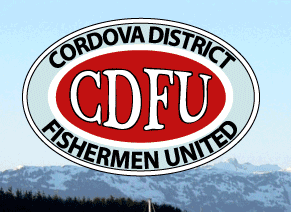 Cordova District Fishermen United
Cordova District Fishermen United, CDFU- is a non-profit organization dedicated to preserving, promoting and perpetuating the commercial fishery in Area E. CDFU has a board of up to 13 experienced commercial fishing permit holders in 4 separate divisions: Gillnet, Groundfish, Seine and Herring. CDFU is governed by organizational bylaws, which determine eligibility for Board membership. Board seats are staggered, and any Prince William Sound commercial fishery permit holder can run for a seat in the division in which they hold a permit.
Cordova District Fishermen United's structure is divisional, enabling each gear group to deal with gear-specific and allocative issues without comprising the function of the entire organization to address issues relevant to all commercial fishermen. It is important to note that CDFU, as an organization, does not take positions on gear-group allocations, but rather leaves that to each specific division.