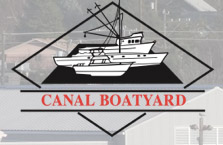 Canal Boatyard in Ballard,WA thinks a boatyard can be more than just a place to haul out. After all, boating is supposed to be fun. Canal Boatyard is the finest boatyard in Seattle because they take that extra step to make sure you and your family are safe and comfortable while you are working on your boat or having someone else work on it. We're easy to get to by water or land, and there are lots of things to do nearby.
On the practical side, Canal Boatyard is user friendly to both marine professionals and do-it-yourselfers. Coastal Marine Engine, the Volvo Penta Power Center for the Pacific Northwest, calls Canal home and provides decades of engine service experience. Emerald Harbor Marine and Pacific Fiberglass are both located on site, and between the two of them nearly anything can be painted, installed, fabricated, wired or fixed. For the DIY crowd, Canal has quick access to the area's best marine stores, machine shops, hardware stores, riggers and brokers. A Starbucks and a Fred Meyer are a walk across the parking lot. Ballard's great restaurants and entertainment are just up the street.
Capacities:
55-ton Travelift has the capacity to accommodate all but the largest yachts and commercial vessels. A boom truck can handles all the miscellaneous lifting, including mast stepping. Garbage and hazmat disposal are onsite as well.
Store & Tool Rental:
Canal Boatyard's store is right on hand with a wide variety of zincs, bottom paint and other miscellaneous items for the do-it-yourselfer.
They also have a collection of tools for rent, including Fein vacuum sanders and other items. Whatever they don't have in the shop or rental shed, they can help you find nearby. Whether it's a special gasket or a shackle, it's close by.
Indoor Work:
They have a large onsite temporary structure for the jobs that need to be tackled indoors. Heatable and dry, this 100' x 30' building is available both to marine professionals and do-it-yourselfers.
Security:
Your safety and the safety of your boat are essential. After hours, the yard is accessed by coded entry and there are security cameras throughout.
Environment:
Canal Boatyard has always been known as one of the cleanest facilities on the waterfront. They are proud to be at the forefront of the effort to keep runoff pollution to a minimum. The 2009 installation of the StormwateRx system filters runoff water from the entire yard, ensuring contaminants don't make it into the waterway. Canal Boatyard was one of the very first yards to be certified "Clean" by the Clean Boating Foundation.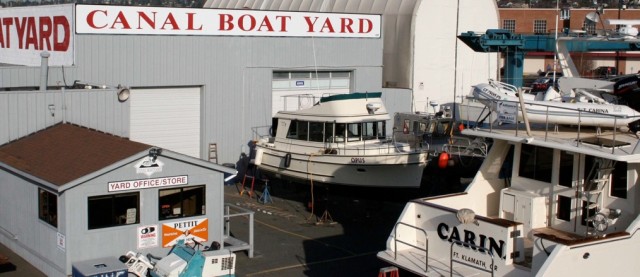 Canal Boatyard in Ballard, WA