West Bay SonShip in Victoria, BC is a shipyard that specializes in yachts. Founded in 1967 by Ben and Leidy Vermeulen, West Bay SonShip is a full service shipyard. They sell select brokerage yachts and they excel in the design and construction of new luxury semi-custom.
Through quality, commitment and service, they proudly bring to life the yachting dreams of their customers.
Services include:
Yearly maintenance and checks.
Custom paint and top coatings.
Main engine re-powering.
Custom cabinetry, millwork and interiors.
Electrical and mechanical services.
Navigation equipment installations.
Thruster and Stabilizer installations.
Design services.
Metal fabrication.
Haul-outs and Surveys.
Non-marine structural fiberglass construction.
West Bay's full service shipyard, main production facility and offices, located on the south arm of the Fraser River approximately 20 miles (32 kilometers) south of Vancouver, British Columbia, is the largest luxury yacht manufacturing complex of its kind in Canada. The shipyard occupies over 400 feet (121 meters) of river frontage and includes a 200-to marine ways. The shipyard and offices occupies approximately 100,000 sq. ft. under cover on 6.5 acres (2.6 hectares) river front real estate.West Bay has implemented a series of improvements to its facilities over the years. Improvements that will ensure West Bay continues to deliver on time service work and newly constructed top quality yachts to its customers. West Bay upgraded its on-water facilities including a new set of concrete floats and a floating boathouse capable of housing a 110-ft. and an 87-ft. motor yacht side-by-side. The new floats are wide, stable and secure, rising and falling with the tidal Fraser on newly driven steel piles. The state-of-the-art boathouse is impressive with its cavernous, well lit interior and huge aircraft hangar-type double doors.
West Bay's Design department employs the latest in computer-aided design technology ensuring detailed drawings with accurate measurements are in the hands of West Bay's artisans and crafts people who sculpt the inimitable interiors that give West Bay SonShip their reputation for excellence.
Each SonShip yacht built is delivered to its owner with West Bay's commitment to quality and performance. It's this proud dedication to quality that sets West Bay apart from other yacht builders.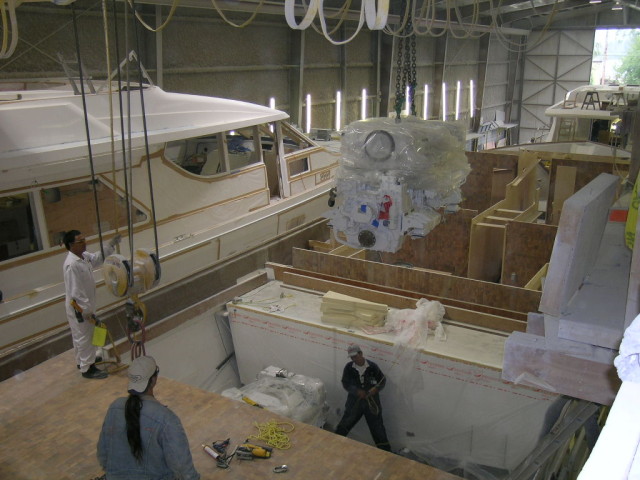 Facilities at West Bay SonShip