Fisherman's Terminal, operated by the Port of Seattle, is home to some of the vessels that are on the Discovery 's Deadliest Catch.  Fishermen's Terminal is located on Salmon Bay in the Interbay neighborhood of Seattle, Washington, east of the Hiram M. Chittenden Locks and immediately west of the Ballard Bridge. The primary service at Fishermen's Terminal is providing for Commercial Fisherman, but has expanded in scope after it was discovered that  recreational boats and fishing boats are completely compatible with each other. In fact, a lot of commercial fishermen keep their recreational boats at Fishermen's Terminal- twenty percent of the fisherman who dock their commercial vessel at Fishermen's Terminal also dock their pleasure craft there!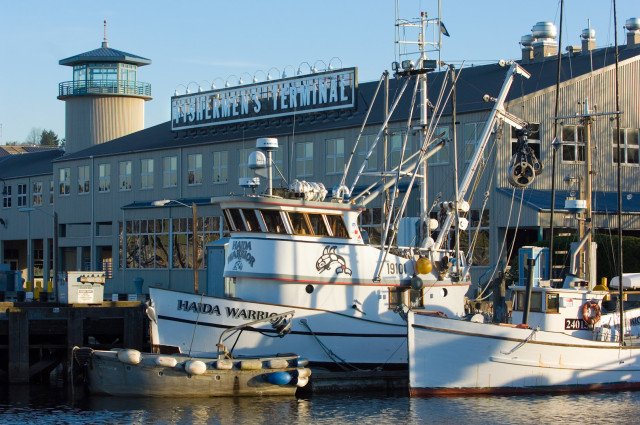 Fishermen's Terminal – F/V Haida Warrior
The facility provides freshwater mooring for fishing vessels, and pleasure craft. It can accommodate vessels up to 250 feet. Preference is given to commercial fishing vessels, and it serves more than 600 vessels in all. A public access float provides free moorage for up to four hours for visitors.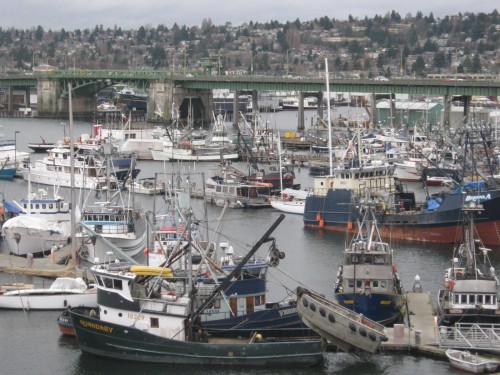 Fishermen's Terminal – F/V Brenna A & F/V Quandary
The facility also includes 227,000 square feet (21,100 m2) of office, retail, restaurant, light industry and warehouse space. Among the retail establishments are Wild Salmon Seafood Market, which started as a cooperative for fishermen to sell their local catch, and Bilingual Books, the Seattle-based language instruction publisher, who produce many useful tools that help with communicating on and off the boat.
Fishermen's Terminal is home to the Fishermen's Memorial, a bronze and stone sculpture with plaques memorializing more than 500 local commercial fishermen and women who have been lost at sea since the beginning of the 20th century. The memorial is managed by its own non-profit organization.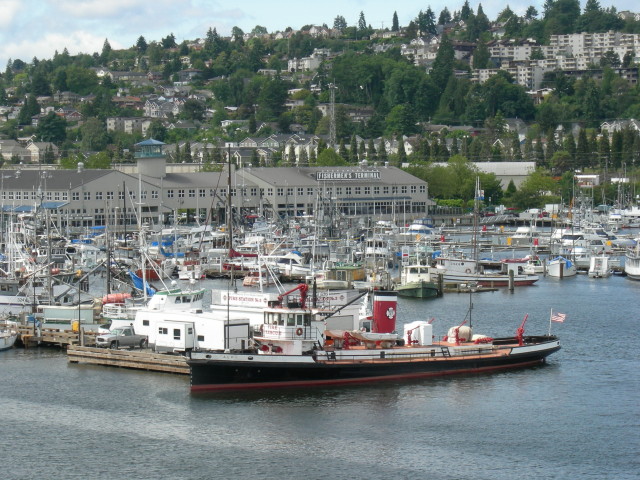 Fishermen's Terminal – For Boats of All Shapes & Sizes
Fishermen's Terminal
www.portseattle.org
VHF Channel:  17