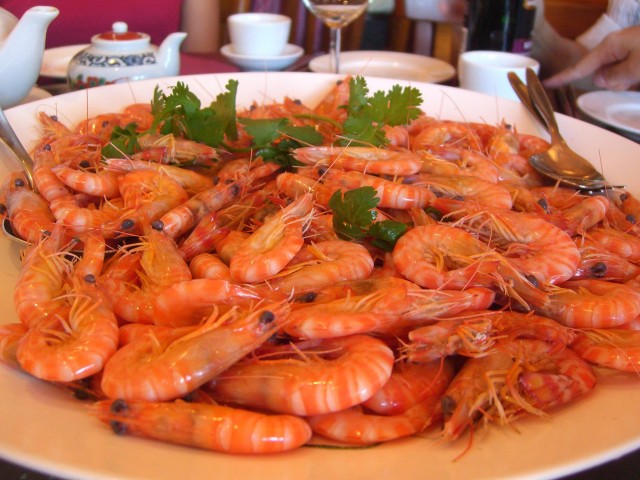 Small or Jumbo, There's Nothing Like Shrimp
Shrimp is a staple in any seafood diet. Although over 300 different types of shrimp exist, only half a dozen typically find themselves in American markets.  In the Pacific Northwest, we have a number of local options- sustainable Oregon pink shrimp and spot prawns being two popular options- and the southern/Gulf  states have their own very diverse variety of these creatures. Whichever size, shape, and flavor you prefer or are looking to explore, here's some tips that'll help you make the perfect pick, plus a perfect grilled shrimp entree.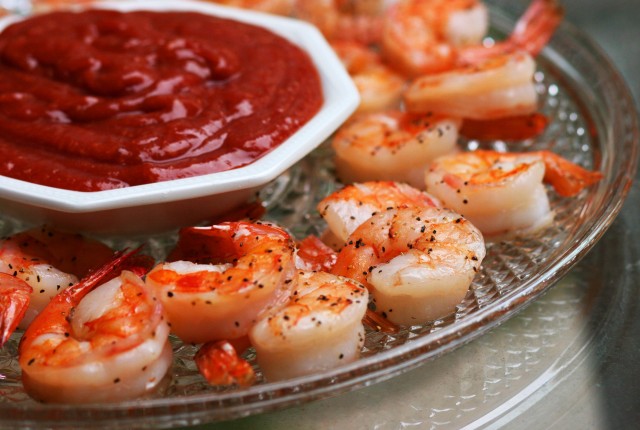 Shrimp Cocktail is a Party Favorite
Buying Shrimp
It's preferable to buy shrimp frozen – most are sold in five-pound blocks – as fresh is rare and thawed shrimp gives neither the flavor of fresh nor the flexibility of frozen. The shelf life of thawed shrimp is only a couple of days, but shrimp stored in the freezer can retain its quality for several weeks.
Size: Few rules govern the sale of shrimp and size classifications are subjective and relative. Retailers judge shrimp by the number of shrimp it takes to make a pound, and you should too. Generally speaking, shrimp that comes in around 15 or 20-30 per pound gives a strong combination of taste, value, and ease of prep.
Grilled Jumbo Shrimp With Lemon & Oregano
Ingredients:
3 lb jumbo shrimp in shell (7 or 8 per pound)
4 large garlic cloves
3/4 teaspoon salt
5 tablespoons fresh lemon juice
1/2 teaspoon black pepper
3/4 cup olive oil
1/4 cup finely chopped fresh oregano (from 1 bunch)
3 lemons, each cut into 6 wedges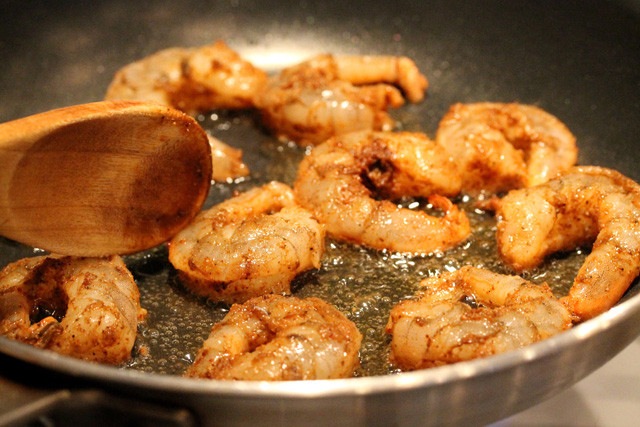 Preparing the Meal
Snip through shells of shrimp along middle of back using kitchen shears, exposing vein and leaving tail and adjoining segment of shell intact. Devein shrimp, leaving shells in place.
Mince and mash garlic to a paste with salt using a large heavy knife or a mortar and pestle. Transfer to a blender along with lemon juice and pepper and blend until smooth. With motor running, add oil in a slow stream, blending until emulsified. Transfer dressing to a bowl and stir in chopped oregano.
Prepare grill for cooking over direct heat with medium-hot charcoal (moderate heat for gas).
Toss shrimp with 1/4 cup dressing in a large bowl and marinate no more than 15 minutes. (Texture of shrimp will change if marinated too long.)
Lightly brush lemon wedges with some of remaining dressing and grill, turning over once, until grill marks appear, 3 to 5 minutes. Transfer to a large platter.
Grill shrimp on lightly oiled grill rack (covered only if using a gas grill), turning over once, until just cooked through, 7 to 8 minutes total. Transfer to platter with lemons as grilled. Serve with remaining dressing.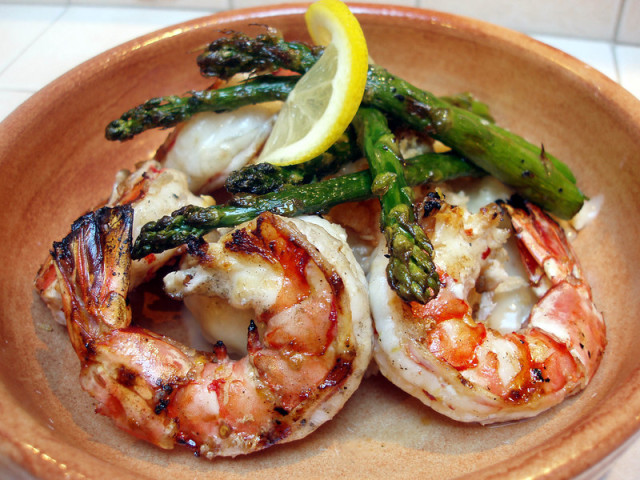 Boaters, Try This Recipe!