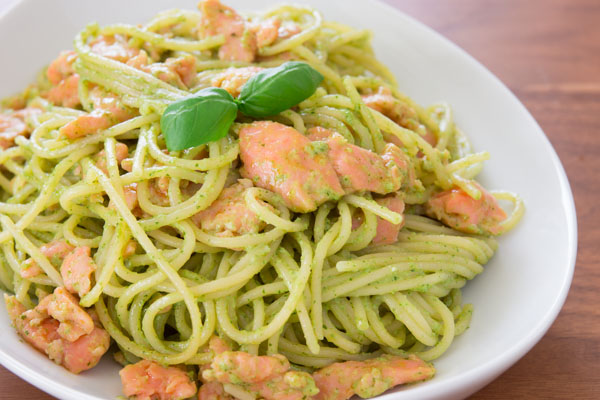 Wild Alaska Smoked Salmon Pasta – So Easy, So Tasty
Boaters, Try This Recipe: Wild Alaska Smoked Salmon Pasta. This dish is one of our simplest to date- so simple in fact, that we can give you the recipe in one sentence: boil the pasta, puree the sauce ingredients, reduce the sauce ingredients and coat the pasta and smoked salmon in the sauce. All of this takes about 10 minutes.
By reducing cream and milk with cheese it creates a rich, creamy sauce that coats each strand of noodle without any added flour or butter; by pureeing basil into the sauce, it gives the sauce a gorgeous green hue and pesto-like flavor without adding any effort. The sauce then gets tossed together with the noodles and salmon, coating each strand of pasta, while gently cooking the salmon with the residual heat. You've gotta try it!
Ingredients
11 ounces dried spaghetti
1.5 ounces Parmigiano-Reggiano
1.5 ounces basil
1 medium clove of garlic
½ cup cream
¼ cup milk
7 ounces cold smoked Wild Alaska salmon, roughly torn apart
Black pepper
1 teaspoon lemon juice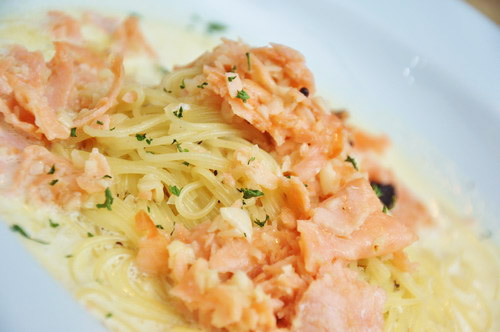 Preparing the Meal
Bring a large pot of salted water to a boil and boil the pasta 1 minute less than the package directions.

Add the Parmigiano-Reggiano to a small food processor or blender and process until powderized.

Add the basil, garlic, cream and milk and process until smooth.

Pour the sauce into a sauté pan and when the pasta is about 1 minute away from being done, turn the heat on to high.

Bring the sauce to a boil, and cook until it starts to thicken.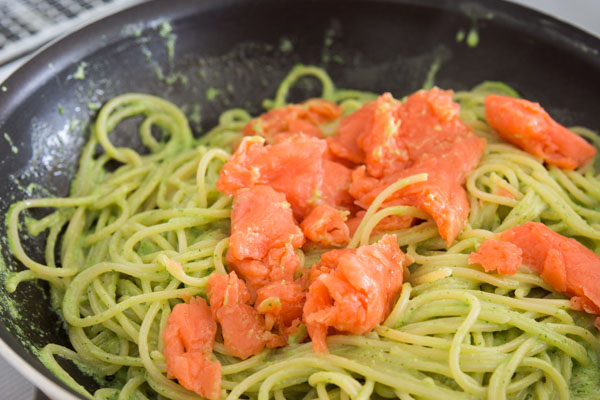 Coat Pasta Evenly in Sauce While Breaking Up Salmon
Drain the pasta and add it to the sauce along with the smoked salmon. Stir to coat the pasta evenly while breaking up the salmon.

Remove from the heat and sprinkle with freshly ground black pepper and the lemon juice. Plate and serve immediately.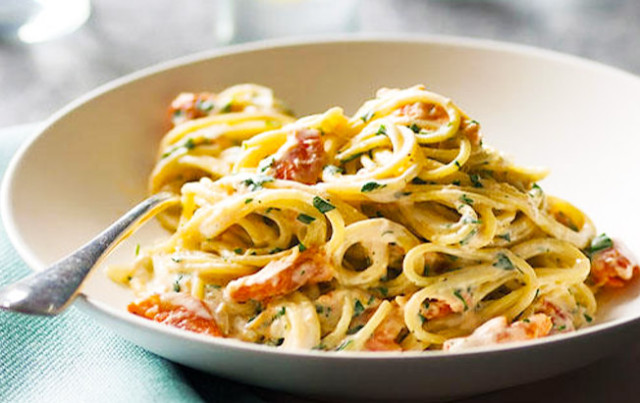 Boaters, Try This Recipe!