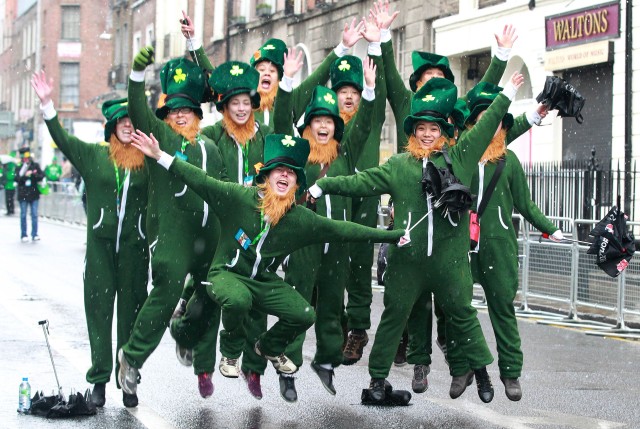 It's Easy Being Green!
St. Patrick's Day is right around the corner, and what better way to celebrate it than with some traditional Irish dishes & sides? While corned beef & cabbage is a staple, there are a number of more complex and authentic meals out there that'll make you feel Irish even if you're otherwise entirely Panamanian. Here are some recommendations to whet your appetite for food, fun, and revelry:
Irish Shepard's Pie
Shepherd's pie is a meat pie originating from the UK with a mashed potato top. It is traditionally made with leftover roast meat, but today it is more often made with fresh minced or ground meat, most commonly lamb. If you're looking for an alternative to corned beef & cabbage for your St. Patrick's Day feast, look no further than this delicious dish.
Ingredients:
1 tablespoon olive oil
1 tablespoon butter
1 onion, diced
2 pounds lean ground lamb
1/3 cup all-purpose flour
salt and ground black pepper to taste
2 teaspoons minced fresh rosemary
1 teaspoon paprika
1/8 teaspoon ground cinnamon
1 tablespoon ketchup
3 cloves garlic, minced
2 1/2 cups water, or as needed
1 (12 ounce) package frozen peas and carrots, thawed
2 1/2 pounds Yukon Gold potatoes, peeled and halved
1 tablespoon butter
1 pinch ground cayenne pepper
1/4 cup cream cheese
1/4 pound Irish cheese (such as Dubliner®), shredded
salt and ground black pepper to taste
1 egg yolk
2 tablespoons milk
Directions:
Preheat the oven to 375 degrees F (190 degrees C).

Place olive oil and butter in Dutch oven over medium heat. Stir in onion and ground lamb; brown the meat, breaking it up into small crumbles as it cooks, about 10 minutes.

Stir in flour until incorporated, then mix in salt, black pepper, rosemary, paprika, cinnamon, ketchup, and garlic; cook and stir until garlic is fragrant, 2 to 3 minutes.

Stir in water and scrape up any brown bits from the bottom of the Dutch oven. Reduce heat to medium-low and bring mixture to a simmer; cook and stir until thick, about 5-6 minutes.

Remove lamb mixture from heat and stir in peas and carrots until combined.

Spread lamb mixture into the bottom of a 9×13-inch baking dish and set aside.

Place potatoes into a large pan of salted water. Bring to a boil, reduce heat to medium, and cook until tender, about 15 minutes. Drain well and return potatoes to pan.

Mash butter, cayenne pepper, cream cheese, and Irish cheese into the potatoes. Mash until combined and potatoes are smooth. Season to taste with salt and black pepper.

Whisk together egg yolk and milk in a small bowl; stir into the mashed potato mixture.

Top the lamb mixture in the baking dish with the mashed potatoes and spread evenly to cover.

Bake in the preheated oven until the top is golden brown and sauce is bubbling up around the edges, 25 to 30 minutes.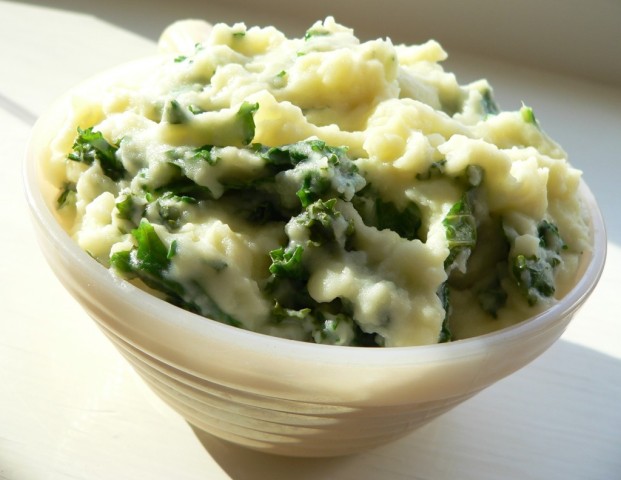 Bowl of Colcannon
Colcannon is a traditional Irish dish mainly consisting of mashed potatoes with kale or cabbage. It even has an entire song written about it! There are many regional variations of this dish, and it is often eaten with boiled ham or Irish bacon. At one time it was a cheap, year-round staple food, and perfect for any St. Patrick's celebration.
Ingredients:
3 pounds potatoes, scrubbed
2 sticks butter
1 1/4 cups hot milk
Freshly ground black pepper
1 head cabbage, cored and finely shredded
1 (1-pound) piece ham or bacon, cooked the day before
4 scallions, finely chopped
Chopped parsley leaves, for garnish
Directions:
Steam the potatoes in their skins for 30 minutes. Peel them using a knife and fork. Chop with a knife before mashing. Mash thoroughly to remove all the lumps. Add 1 stick of butter in pieces. Gradually add hot milk, stirring all the time. Season with a few grinds of black pepper.
Boil the cabbage in unsalted water until it turns a darker color. Add 2 tablespoons butter to tenderize it. Cover with lid for 2 minutes. Drain thoroughly before returning it to the pan. Chop into small pieces.
Put the ham in a large saucepan and cover with water. Bring to the boil and simmer for 45 minutes until tender. Drain. Remove any fat and chop into small pieces.
Add cabbage, scallions, and ham to mashed potatoes, stirring them in gently.
Serve in individual soup plates. Make an indentation on the top by swirling a wooden spoon. Put 1 tablespoon of butter into each indentation. Sprinkle with parsley.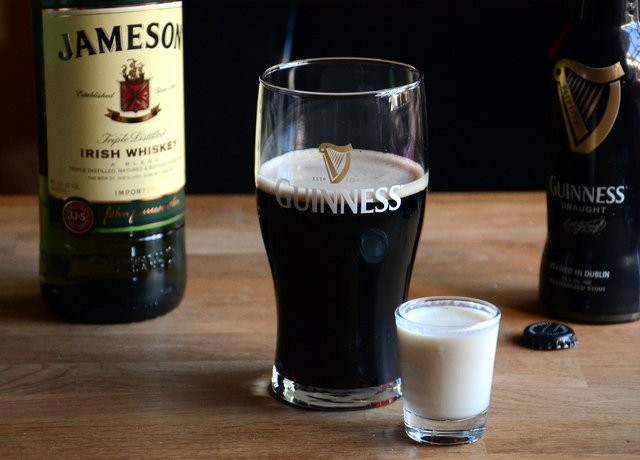 Irish Car Bomb
There's nothing quite like an Irish Car Bomb. While certainly far less historical than the other recipes featured here, this particular beer & shooter combo is one that's been enjoyed by younger folks for years. More fun than green beer, that's for sure.
Ingredients:
1/2 shot Irish cream,
1/2 shot Irish whiskey,
1/4 oz. Coffee liqueur
1/2 pint Irish stout
Directions:
Float Whiskey on top of the Irish cream in a shot glass, then drop the shot glass into the stout and drink rapidly.


Happy St. Patrick's Day from Salty Dog Boating News!