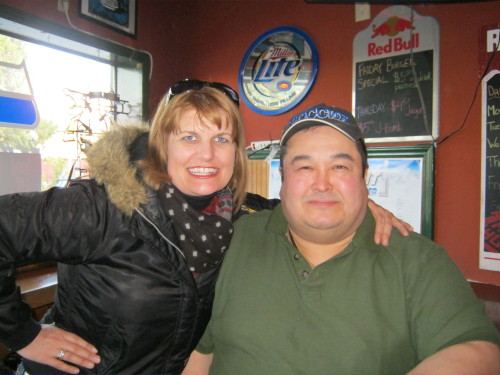 Salty Dog Boating News – Publisher Former South Side Girl (left) AKA: Salty Sea Gal & Naknek Salmon Fishermen Bruce (right) – it's 46 degrees and Bruce thinks it's warm in the lower 48! 
Bristol Bay Salmon Fishermen & Talented Photographer:  Kanakanak, Alaska is a village near Dillingham; this is where Bruce Anderson was born, by 10 years old he was salmon fishing out of South Naknek, Alaska.   "I hated fishing when I was young – my hands would bleed all the time we didn't have rubber gloves, we only had cotton gloves.  We had to put the cotton gloves in a bucket of water, to get them wet – our hands would bleed while we worked.   I went Photography school in Denver – at the Art Institute of Colorado; then I appreciated fishing. I went to school with kids who were skipping meals to buy a roll of film for photography class.  Now as soon as my boat gets launched I can't wait to get out on it," says Bruce.
When Bruce was asked when he ran his first boat his answer was simple, "well Dad died in 1976, I was 17 years old that's when I ran my first boat."  He used to fish Egegik, Ugashik and Togiak; but these days Bruce finds the fish in Naknek close to home; it's convenient to the house if he wants to put the boat to bed and run home for the night.
South Naknek has a lot of soft spots in the hearts of us who remember – "The Trident Seafood's Gary Johnson Days, when he was plant and fleet manager".  South side in the 1990's was just like going to summer camp; except you worked your tail off.  Work hard – party hard in those former South side days, the PIT was and still is the one and only Bar in the village.  The PIT is located on the top of the hill where all boats at the top of the 'Y' can be spotted; usually after your boat was tied up and settled in going dry, by the time you hit the PIT you were most likely greeted to a game of pool by local legends Magic Mike and Frank & Beans.  They kick your tail at pool nearly every time '3 sheets to the wind' or not; they win!  With no paved roads and 70 something local residences living on South side, summer times at the PIT have 'Legendary Stories;" a lot them still start with a guy named 'Bones!'  Anyone who knows Bones – from Bristol Bay knows one or many stories that start with 'this one time Bones………' The infamous Bones is a former Tender engineer, years later turned Captain.  He's an all around great guy, stronger than an ox, known to save a life or two by scooping them out of the river between the Sea Lion and Net Barge dropping them on the deck like a rag doll.  He's an endless story-teller; and we all know a story that includes 'Bones, Women & Fire'!  Bruce has his share of – 'Bones stories and fire!'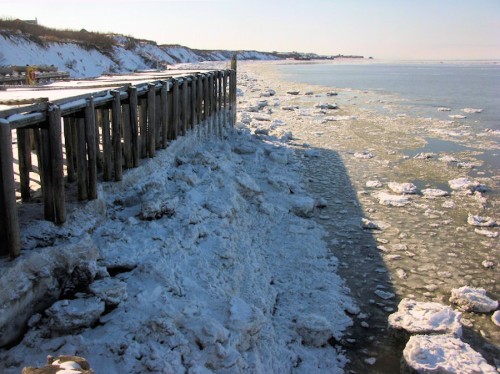 Looking Down River from Trident South  ©Photo by Bruce Anderson
Bruce's mom, Helvi Anderson is now 82 she's healthy and active.  In the summer she's buzzing around on her 4 wheeler; in the winter she will use the SUV.  Helvi, is one tough South Naknek woman; she has always said, "I wish I could cut a hole out where my bed sits to hang my head out."  Today Helvi said, "Its cold up here – 5 degrees."  She is an excellent sower; she's fixed up, sowed up and patched up nearly ¾ of any of us who have been in South Naknek for Salmon season.  She's known to squeeze in a 'heart or star patch' on favorite Carhart Coveralls – being one of the only girls during pre-season laying dock meant you got a fair share of teasing from the guys thanks to Helvi's star and heart patch's – on the knees!   Bruce – Helvi's son; showed up in Seattle  today; with a short sleeve shirt on in 46 degree's saying, "this is warm!"  To most of us in the lower 48, warm is not 46 degrees; it's still jacket and scarf weather in early March.   When Bruce was asked, how have winters in Naknek been – he had a one word answer, 'Cold!'  Yah, 20 – 30 below is darn cold!
Bruce's boat is the 32 ft. gill-netter, f/v Kira; she can pack a maximum of about 12,000 pounds.  Being a South Naknek resident, Bruce is loyal to Trident Seafood's, "They have good Tender service, you can buy groceries, get fuel, have parts shipped out to the boat – it's great.  When I showed on the 'Sea Lion' it didn't have a shower, it had a pressure washer," describes Bruce.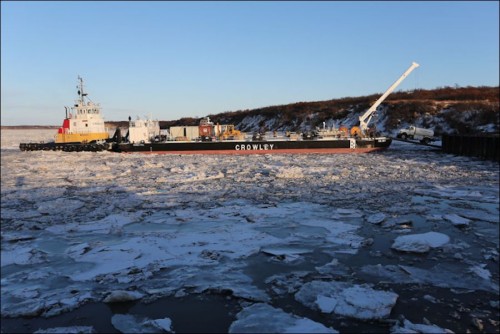 Crowley Fuel Barge at South Naknek City Dock Loading a World Wide Fuel Truck and Several Other Vehicles & Gear to go Across to Naknek   ©Photo by Bruce Anderson
After jogging Bruce's memory of Bristol Bay stories – he sure has a lot of them for instance, "this one time, the fish were hitting hard this other boat and I got our nets sowed together my first reaction was to tow, tow – I wanted to get my net away from his net.  Next thing I knew – he's swung up and tied our cleats together, now we were pull-in nets in and the fish would come up and pop free – it was pretty cool.  Most guys will just tow and tear up your net – you don't have to tow; we stayed calm and both got fish," says Bruce.   Now that's a good day of Fishing!
Photography Details & Prints Visit:    Alaska Wild Light
 Fishermen & Talented Bristol Bay Photographer – Bruce Anderson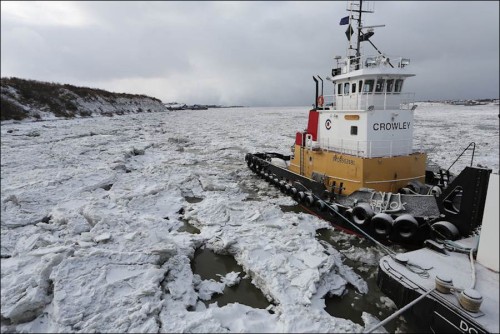 LOTS OF ICE – Crowley Fuel Barge M/V Sesok, Naknek River AK  
©Photo by Bruce Anderson