Support Local NW Fishing, Smoked Salmon Chowder, Northwest Classic
Fishermen's Terminal in the ship canal is packed with Seine fishing boats coming and going, Pacific Northwest Fishing prep is underway! Salty Dog Boating News – Comfort Food Wild Salmon Chowder Recipe, PNW & AK Fishermen & Fisheries are always busy at Fishermen's Terminal. Amen, it has started raining cats & dogs with snow spurts in the NW lower 48, we've had a mild winter, thank heavens. Warm up and 'Try This Recipe:' Wild Smoked Salmon Chowder. We've all had clam chowder before, and if you're following the recipes here at Salty Dog Boating News, you may have even made some recently. Salmon chowder is similar in name and creaminess only, as there's nothing quite like it: the aroma and flavor of wild Alaskan Salmon, tender chunks of potatoes, corn and other natural ingredients blended together in a hearty, soul-soothing chowder. Preparation is quick and easy, and will delight all that chow down on this chowder.
Ingredients
1 tablespoon olive oil
3 medium leeks, white and light green parts only, rinsed and sliced (about 3 cups)
1 garlic clove, minced
1 large russet potato, peeled and cubed
1 large stalk celery, chopped
1/2 teaspoon kosher salt
1/2 teaspoon freshly ground black pepper
2 cups vegetable broth
2 tablespoons tomato paste
2 cups milk (any fat content)
8 ounces wild Alaska smoked salmon, flaked
1/2 cup heavy cream
2 tablespoons chives, chopped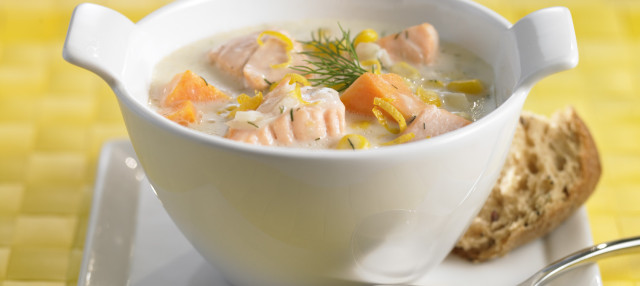 Preparing the Meal
Heat the olive oil in a large, heavy-bottomed pot over low heat. Add the leeks and garlic and sauté them for 2 minutes.
Add the potato, celery, salt, and pepper and cook over medium heat for about 1 minute, stirring constantly.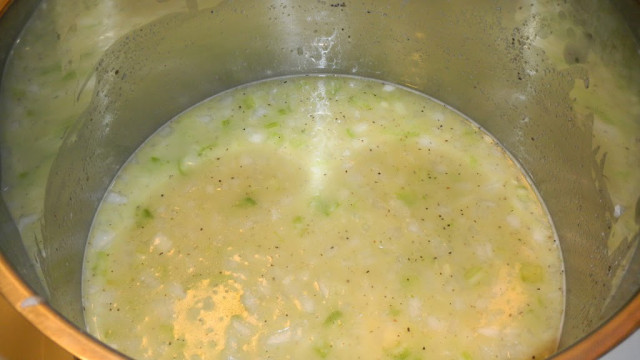 Stir Constantly Over Medium Heat
Add the broth and simmer until the potato is tender, about 15 minutes.
Add the tomato paste and milk, then the salmon, and bring the mixture back to a simmer for a few minutes. Don't let it boil, or the milk will separate.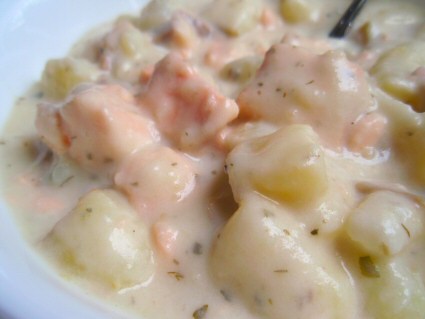 Don't Let Mixture Boil, or the Milk Will Separate
As it simmers, stir in the cream.
Remove from heat, garnish with the chives, and serve.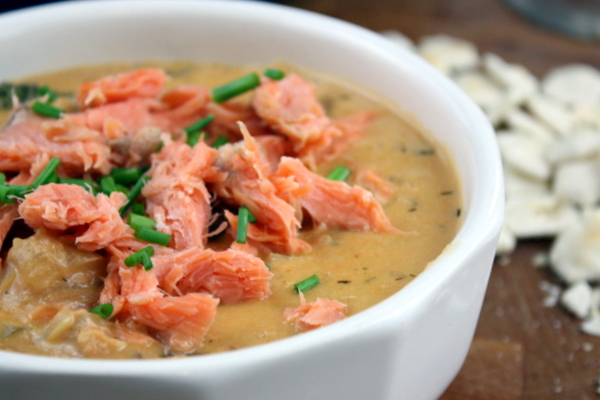 NW Boaters, Try This Recipe!
AMEN to our PNW to AK Fishermen & Fisherwomen & their families!
EAT FRESH – BUY WILD!