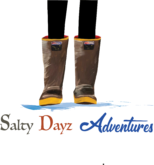 Salty Days Adventures is located in the heart of the WA Ship Canal in Seattle at Fishermen's Terminal, just east of the Ballard Locks. Charter the 58' JoAhna K! Unplug and explore in 1950's craftsman style. JoAhna K, is not your average modern day motor yacht, she has character, charm and class.  Salty Days Adventures, motor yacht JoAhna K creates an atmosphere that encourages guests to unplug from the hustle and bustle of today's busy world. She captures the essence of slowing down and taking a breath of fresh air. Visit: https://www.saltydayzadventures.com/
Cruise with Salty Dayz Adventures not only for the family crew, unique experiences and intentional customer service but also to experience the JoAhna K an adventure yacht designed by a legendary naval architect, William Garden.
In 1952, Oscar winning Hollywood camera engineer, George Mitchell, commishend Bill Garden to sketch a vessel capable of carrying his family and two crew to the Galapagos islands non stop from California. Garden drew a 58' x 16 ½ boat. He modeled her around a fishing vessel instead of a fancy yacht. As work began at Fellows and Stewart in San Pedro, George flew to Africa to film the movie, "Out of Africa."
JoAhna K planking is 2" thick old growth fir. This material would be considered exotic and unobtainable in our modern world.  Designed with an eye for nature, Garden designed her underwater shape to match that of a whale, wide and deep in the middle, with a pointed exit. Garden believed that "nature knows best on how to easily slip through the water."
The JoAhna K requires very little Horse Power to push her through the water, while quietly sipping fuel with barely a wake. Her deep hull carries enough fuel to travel 3,500 miles without stopping. Loaded with 3,000 gallons of fuel and 800 gallons of water, she still has capacity to sleep 9 guests. A full stand-up engine room and fuel tanks are centered in the boat, giving it a balance on the helm. She has a wonderful easy motion not found in modern power hungry yachts.
Just like whales, porpoise and  tuna, the JoAhna K's shape is natural in her salty environment. After 40 years of driving boats, Capt. Jack says, "JoAhna K is the smoothest, quietest boat I've ever ran."
The JoAhna K spent 9 years in S. California as the Beagle II. Way back then the family never made the hoped-for voyage to the S. Pacific. Then sold to a Seattle dentist, she was outfitted with a dentist chair, renamed Sea Comber and took off for Alaska. For the next 20 years, she visited tiny villages and native communities taking care of the locals dental needs. The dentist and the crew enjoyed a side of Alaska a tourist would never get to see.
The dentist retired and Sea Comber was sold to a well heeled buyer. Renamed Katherine Jane, and promptly put in a year long shipyard refit. Over $750,000 was spent on a complete rebuild. New modern Lugger Diesels, all wiring, plumbing, ripped out and re-installed top grade systems. Wheelhouse and top station were rewired with top of the line electronics, radar, downsounders, chart programs, and auto-pilots. Anything that was less than the best was not allowed!
After updating the JoAhna K, the owner never used her and sold her to a couple who put her into a bare boat charter service in Anacortes. She was a popular boat as wood boats rarely came up for charter.
A gentleman from Garibaldi OR. chartered the JoAhna K each summer through Anacortes Charters. He loved her and tried to buy her. After being refused, he was determined to have a boat just like the JoAhna K. He began to build an exact replica!  An identical wood epoxy hull was built on the east coast and trucked to the west coast.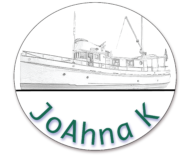 VISIT:  https://www.saltydayzadventures.com/
After starting construction on his new William Garden boat, the Kathrine Jane (JoAhna K) came up for sale and he bought her.  He drove her 500 miles down to the Oregon coast where they spent a year and a half outfitting her.  Maintaining the Katherine Jane and building a new boat became too much. He had to focus on the new boat and could't care for his beloved Katherine Jane anymore. After much discussion with Capt. Jack, he felt good enough to sell her to Jack & Joanne Molan. With a handshake he said, "She's 68 years old, she's got another 68 to go at least. Treat her well, she's very special."
So that's exactly what the Molan family has done. Falling in love with her and all her charm, the family now shares her special history through boat charters with Salty Dayz Adventures. Jack & Joanne renamed her JoAhna K after the girls in the Capts life; wife Jo and daughters Ahna and Kirsten. A special boat with a heck of a history – book now for the chance to experience the JoAhna K and Salty Dayz Adventures yacht boat charters.
BOOK YOUR CHARTER TODAY:  VISIT: https://www.saltydayzadventures.com/