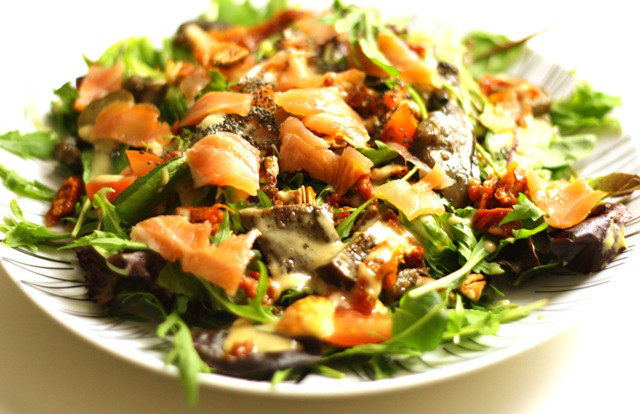 Chef's Recipe: Salmon & Roasted Vegetable Salad
Try this Chef's Recipe: Salmon & Roasted Vegetable Salad. Go green with this delicious and complex salad! Just toss roasted vegetables and salmon with a flavor-packed vinaigrette to serve on top of greens for a hearty dinner salad. For a twist, you can even add a poached or fried egg on top.  This salad pairs great with red wine and company, and will be sure to be the surprise hit of any party.
Ingredients
6 cups cubed (1/2-inch) peeled root vegetables, such as potatoes, turnips, carrots and beets
3 tablespoons extra-virgin olive oil, divided
3/4 teaspoon freshly ground pepper, divided
1/2 teaspoon salt, divided
2 tablespoons sherry vinegar or red-wine vinegar
1 tablespoon minced garlic
1 teaspoon whole-grain mustard
1 teaspoon minced anchovy fillet or paste
8 cups mixed salad greens
2 6- to 7-ounce cans boneless, skinless wild Alaskan salmon, drained and flaked
2 green onions, sliced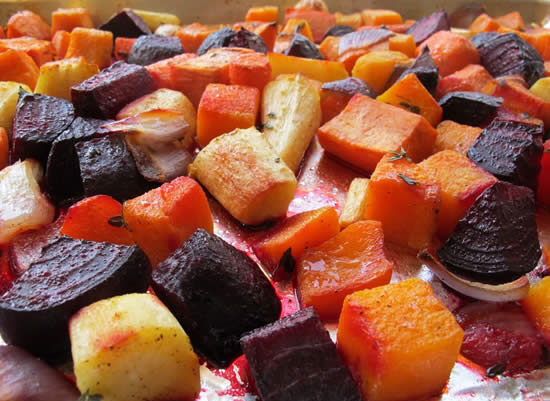 Preparing the Meal
Preheat oven to 450°F.
Toss root vegetables in a large bowl with 1 tablespoon oil, 1/2 teaspoon pepper and 1/4 teaspoon salt.
Spread in a single layer on a large rimmed baking sheet. Roast for 15 minutes.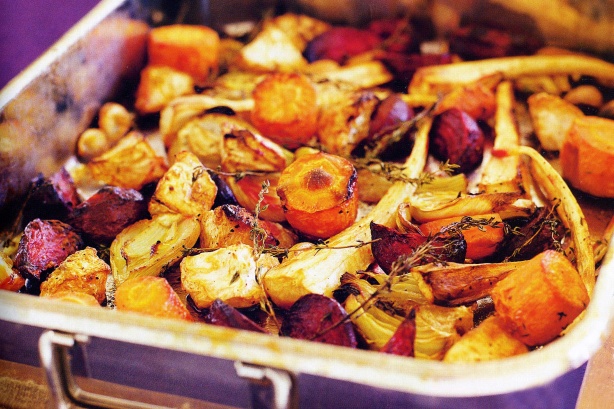 Roast Vegetables Until Golden Brown in Spots
Stir and continue roasting until soft and golden brown in spots, 13 to 15 minutes more.
Meanwhile, whisk the remaining 2 tablespoons oil, vinegar, garlic, mustard, anchovy and the remaining 1/4 teaspoon each pepper and salt in a large bowl. Reserve 2 tablespoons of the dressing in small bowl.
Add the salad greens to the large bowl and toss to combine; divide among 4 dinner plates.
When the vegetables are done, transfer them to the large bowl and gently combine with the reserved dressing, salmon and green onion. Top the greens with the salmon and vegetables.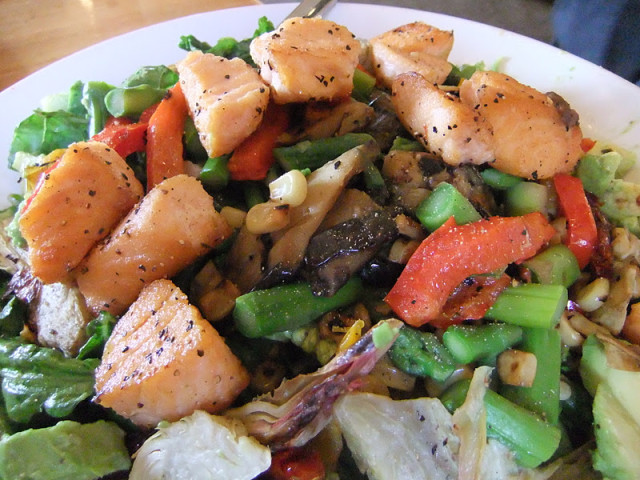 Boaters, Try This Chef's Recipe