Seattle's Opening Day Boating Season, May 6, 2023. Seattle Yacht Club presented a 'Game On' themed Opening Day Parade. No more virtual events, fire up the mains Seattle Boaters – let go. The Great Emerald City of Seattle is known for having the largest 'Opening Day' Boating Season, nationwide.
Opening Day, is the official opening of Seattle's boating season sponsored by Seattle Yacht Club, includes a celebration of many kinds of water activities. This year's festivities will include a morning of crew races, a sailboat race, and as always the grand Opening Day boat parade on Saturday, May 6, 2023. From its earliest days Seattle has celebrated important occasions with water festivities.  https://seattleyachtclub.org/opening-day
Seattle's Opening Day Parade starts at noon the first Saturday in May with the blast of a cannon and the raising of the Montlake Bridge. Seattle Yacht Club's Opening Day has become the nation's largest regional celebration of water, spring and the opening of boating season. Participating yachts will be decorated to illustrate this year's theme for Opening Day, "Game On!"
Opening Day Boating Season, Seattle Boaters, FYI: Bristol Marine Insurance is in the heart of Seattle, they are having another record great year; as year round boating has been extremely busy and active in the PNW.
Now Open For Registration! OPENING DAY SEATTLE BOATING SEASON 2023!
Opening Day in Seattle is a family affair – families decorate their boats for the festivities and parades, families spread blankets on the shoreline and spend hours watching and picnicking.
Seattle Boaters Go All Out – With colorful and traditional rite of spring, the only one of its kind in the world, brings many people to Seattle's inland waterways on the first Saturday in May as boaters celebrate Opening Day of the boating season. Spectators crowd the shorelines of Seattle's Portage Bay and Montlake Cut as boats, many of them decorated, parade past judges and spectators watching aboard boats anchored along the parade route.
There are small boats, motorboats, rowing and paddle boats, sailboats, antique boats and mega-yachts in the annual Opening Day parade sponsored by Seattle Yacht Club. There are racing shells from top-caliber collegiate and international rowing teams.  This year's races will feature teams from around the country and the world competing in the 2023 Windermere Cup Crew Races.
Seattle Fire Department boats move by in a cloud of spray, as well as sailboats with spinnakers flying. Two small flotillas of yachts carrying members from the University of Washington Husky and Washington State University Cougar Marching Bands set the musical tempo for the day. Participating yachts will decorate to this year's theme: Game On!
Seattle and PNW boating season never officially ends in the Puget Sound area. There may be less extended cruising during the blustery, wet days of winter, but the faithful keep sailing. Opening Day, however, kicks off the happy spring and summer days of boating for many avid boaters in this area.
Sponsored annually by the Seattle Yacht Club, Opening Day can trace its roots to a Fourth of July celebration on Seattle's waterfront in 1895.  In 1920, shortly after the Lake Washington Ship Canal was completed, linking Seattle's inland lakes with Puget Sound, the celebration moved to the fresh waters of the ship canal, Portage Bay and the Montlake Cut.
Founded in 1892, Seattle Yacht Club is one of the country's most active and long-established yacht clubs; considered a USA national treasure, embedded in PNW history and tradition.
Opening Day offers some outstanding photo and story opportunities. You'll not find anything like it in the United States or, to our knowledge, anywhere in the world. The only comparable event is an annual parade of commercial vessels in Venice, Italy. See you on the water!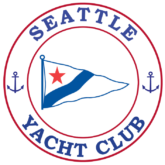 BRISTOL MARINE INSURANCE   https://bristolmarineinsurance.com/
Your West Coast Insurance Professionals, Alaska to Mexico – Worldwide….
GO BOATING!