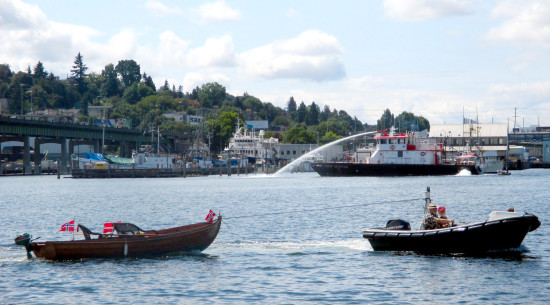 Pacific Fishermen Shipyard, Doug Dixon of Underway with tow in the Ship Canal – Just left Fishermen's Terminal now Westbound – Top of the Morning in the PNW!
The wooden boat is a 1951 17' "RANA" rowing/sailing lapstrake pine on oak copper riveted skiff built in Hemnseberget, Norway, North of the Arctic Circle. It was imported by Dick Wagner of the Center for Wooden Boats and found in a field in Idaho in 2013.
It has a 1951 5 hp Johnson outboard and twin Minnkota 12 volt electric drives, both of which failed under the Ballard Bridge thus requiring a tow by owner Doug Dixon in Pacific Fishermen's 14' Beck Boat "AQUA MARINE INCIDENT COMMANDER" AKA the "GREEN SKIFF" with 60 hp Mercury 4-stroke outboard from the 2012 Obama Small Shipyards Recovery Act Grant.