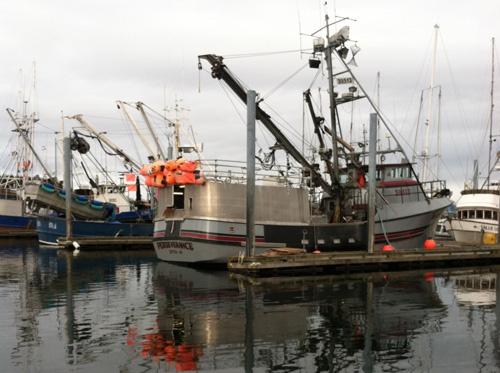 F/V Perseverance, SE AK – Sea Hawk Paints
The average commercial seafood company 'Paint Locker or Stock Room' in Bristol Bay or Southeast AK is anywhere from 3,000 plus square ft and up – &/or in some villages it's a tiny 6 ft. x 6 ft. closet.  The one pre-season job that always must get done is – 'paint the boat' – or for some guys on a pre-season budget 'patch paint the boat'.
Some commercial fishing boats get most of their shipyard paint work done down on the lower 48; others run up hill or stay in Alaska to get'er done.  Since the beginning of most fishing seasons it's hurry, hurry, hurry up and wait; the crew has time to get the pre-season projects done before the 1st Opener.
For instance,  summer of 94' and 97' in Naknk – the pre-season theme was hurry up and wait for weeks on end.  It was a hot 80 degree plus flip-flop summer with mosquitoes converted from state bug to what seemed like state bird; some of us had to get off the dock just to get away from the devouring Bristol Bay mosquitoes!  With 4 plus weeks of sitting on the dock, going dry waiting for openers it left plenty of time to paint every inch of the boat, splice every line, make endless amounts of net slings and have the engine room at its spit shine best!
What are most fishermen concerned about when comes to paint & epoxy?  If they are in any AK village – 'What's in stock?  And – what's the price?  Yep – all fishermen want a deal!  Who doesn't these days?
Sea Hawk Paint is American made and family owned and operated.  This company stands behind its product.  Seafood companies can relate to getting to big and sometimes loosing total control of the product.  With Sea Hawk Paints, what you get today – is what you will get tomorrow, they have a formula that works.
"Can I give them a better product that has not changed over the years?  Yes!  Can I be competitive on price? Yes," describes Tony Bulpin – West Coast Sales, Sea Hawk Paints.

Tuff Stuff High-Build Epoxy Primer – Helpful Facts:
Fishermen – you know the drill with Epoxy – See below highlights!
Premium Blister Protection with Microsheet Silicate Technology
Tuff Stuff is an extremely high-build two-part epoxy primer that dries fast, enabling application of complete barrier system and bottom paint in just two days. Using micro sheet silicate technology, millions of microscopic sheets overlap and build a 100% water barrier that protects the surface from moisture and water penetration.
Tuff Stuff is extremely effective for blister prevention on fiberglass, or as a bilge coating, because it is resistant to oil and water. As a universal primer, it can be used for corrosion protection on most metals below the waterline, and for priming any metal. Tuff Stuff creates an overlapping barrier to eliminate any direct path for water migration.
It can be applied at 10-15 mils dry film in one coat, using a brush, roller, airless or conventional spray. Fills deep scratches and gouges in a few coats and can be sanded within 8 hours to a smooth finish. Available in light gray and special order white.
Use over blistered fiberglass as a repair coat, and over unblistered fiberglass as a barrier coat.
Protects metals from corrosion, including: aluminum, bronze, stainless steel, cast iron and lead – above and below the waterline.
Excellent for priming props, shafts, keels, trim tabs, thru hulls and lower units
Highest build epoxy – Fewer coats needed
Longer window between coats makes Tuff Stuff easy to use
Reduced labor and less haul out time
Tips from Tony – Sea Hawk Paints, West Coast Sales – he's the guy to call! 
Aluminum:
Sea Hawk Smart Solution
No copper, no metals
Can be applied directly over bare aluminum (a primer is recommended)
Guaranteed to prevent hard growth
Wood:
Sea Hawk AF-33
Multi season AF
Can be applied over all paints in good condition
Price competitive
Harder finish ablative to stand up to abrasion and wear with usage
Fiberglass:
Sea Hawk Sharkskin or AF33
Both are proven performers for in Alaska waters
Price competitive
Delta has been applying to seiners as their yard paint for the past 7 years
"Using anything other than Sea Hawk is a huge and costly mistake!" – Current Customer
Tony Bulpin West Coast Sales –  206-940-9623 – tony@seahawkpaints.com     
www.seahawkpaints.com/Our-Products/Product/Tuff-Stuff-HighBuild-Epoxy
Sea Hawk Paints – Products for: