This is the BEST cheesecake recipe around!  It's a great Springtime or Anytime recipe!  Easy to fix the day before an Easter or any other get-together!  No need to make room in the fridge for your leftovers because you will end up with nothing but crumbs on the plate…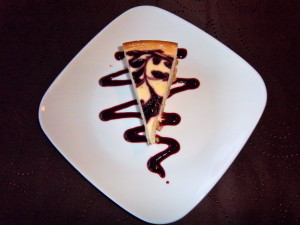 By Chef Tristin Papenfuse
Prep time: 30min
Cook time: 45-60min
Oven to 325*
INGREDIENTS:
Crust:
1 Box Nilla Wafers – OR – If you can find a crispy almond cookie, (I've found these work well and give the crust a fun flavor) Graham Crackers will also work.
½ to ¾ Stick Butter
Berry Sauce:
10-12oz Frozen or Fresh Berries – Whatever you have on hand – raspberries, blue berries, strawberries
1-2 Tbsp. Sugar
½-1 C. Water
1 Tsp. Cornstarch (may or may not be needed)
Filling:
2 C. White Chocolate Chips
½ C. ½ & ½
3 (8oz) pkg. Cream Cheese – Softened
½ C. Sugar
3 Eggs
1 Tsp. Vanilla Extract
METHOD:
In a medium bowl, mix together cookie crumbs & butter.  Press mixture into the bottom and up the sides of a 9inch spring form pan.  Bake for 10 minutes at 325 degrees.  Set aside.
In a saucepan, combine berries, sugar, and water.  Bring to a boil and reduce until sauce is thick.  Stir occasionally.  If using a seeded berry, strain through mesh strainer to remove seeds.
Melt chocolate chips with ½ & ½ in a glass or metal bowl over a pot of boiling water OR use a double boiler. Stirring occasionally until smooth.
In a large bowl, mix together cream cheese and ½ cup of sugar until smooth.  Beat in eggs one at a time.  Blend in vanilla extract and finally the melted chocolate.  Pour batter into crust.  Spoon approximately 3 tbsp of berry sauce over batter and swirl with the tip of a knife.
Bake 45-60 minutes or until filling is set.  Run knife around edge of cheesecake once out of oven to prevent cracking.  Cool cake completely then cover with plastic and refrigerate for 10-12 hours before serving.
Serve with fresh berries. Garnish with white chocolate and drizzle sauce on plate for a fun touch!

About Chef Tristin:

Chef Tristin Papenfuse is a yacht chef and co-owner of Viaggio Charter, based out of Seattle, Washington. She began cooking in the kitchen with her mother and developed a passion for creating wonderful tastes and flavors early on. Tristin is a self-trained chef and takes every opportunity to learn something new from her peers and experimentation with new ingredients. https://cpff.ca/wp-content/languages/new/flomax.html

Tristin's forte is seasonal and local Pacific Northwest fare, but she also enjoys working with any type of cuisine she can. She has been quoted as saying, "Even if you don't think there is anything to eat in your fridge, chances are pretty good that I can make something out of what you do have." https://www.mabvi.org/wp-content/languages/new/desyrel.html

Growing up in Western Florida led to Tristin's passion for boating, which she and her husband now share. Currently she masters her creations aboard their yacht, VIAGGIO, during charters in the Pacific Northwest and Southeast Alaska throughout the summer. In addition, Tristin works freelance on yachts between SE Alaska and the Bahamas. https://blackmenheal.org/wp-content/languages/new/zoloft.html

Tristin counts herself among the lucky few that are able to make a living while enjoying their passion. Every chance she gets, Tristin and Viaggio Charter try to give back to the community by working with local school fundraisers, SeaFair's Special Needs Cruise, Epoch Expeditions and other non-profit organizations.