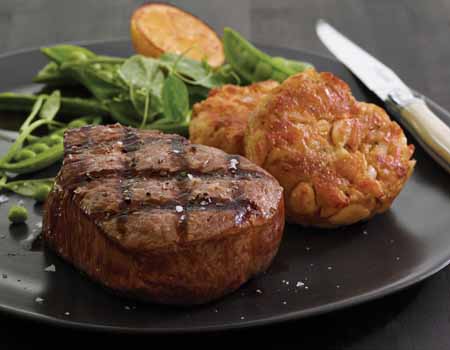 Surf and Turf Filet Medallions and Baked Crab Cakes – A Winning Combo
Salty Dog Boating News presents, everything is better with crab – Pacific Northwest Boaters, try this recipe: warm up with Surf and Turf Filet Medallions and Baked Crab Cakes. Be sure to splurge on really good beef for this recipe- it's worth it. This recipe will take a bit more time to prepare due to the crab cakes, but the pairing of the two together is truly decadent. Consider a vegetable side to complete the meal, such as grilled asparagus or green beans. No matter how you serve it, this recipe will fill you up and never let you down.
Ingredients For Steaks
1 tablespoon olive oil
4 3-ounce beef tenderloin or filet mignon steaks
1 teaspoon salt (optional)
1 tablespoon cracked black pepper
2 cups sliced mushrooms
1 small onion, thinly sliced
1/2 cup reduced sodium fat free beef broth
Ingredients For Crab Cake
Cooking spray
1/2 small onion, minced
1.2 red bell pepper, seeded and minced
1 (6-ounce) can lump crabmeat, drained
1/4 cup whole wheat breadcrumbs
2 egg whites
1/2 teaspoon hot sauce
1/2 teaspoon salt (optional)
1/4 teaspoon ground black pepper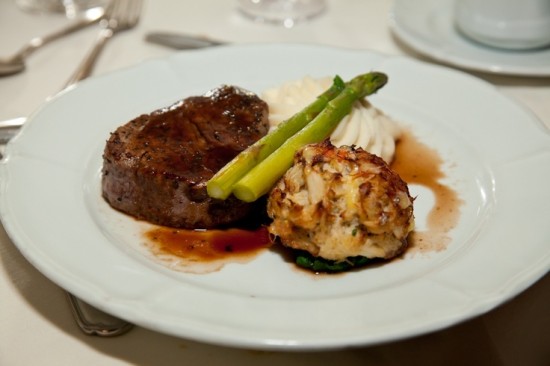 Preparing the Meal
Preheat oven to 375F. Coat a small baking sheet with cooking spray. Set aside.
Coat a small non-stick skillet with cooking spray over medium-high heat. Add onion and red bell pepper and sauté 2-3 minutes or until onions are clear. Set aside to cool.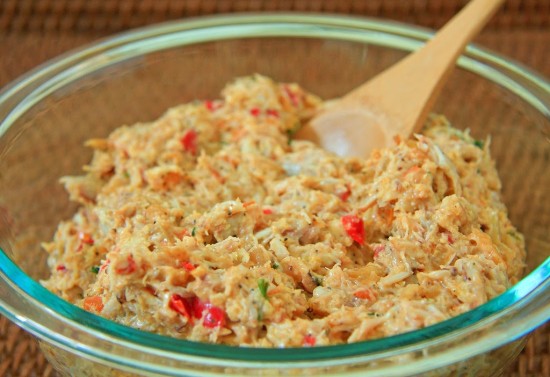 Blend Crab Cake Mixture Well & Refrigerate
In a medium bowl combine crabmeat, breadcrumbs, egg white, hot sauce, salt (optional) and pepper. Mix well until all ingredients are incorporated. Stir in cooled onion and red peppers. Refrigerate mixture for 30 minutes.
Form crab mixture into 4 1/2-inch thick patties. Place patties on the prepared baking sheet. Coat the top of each crab cake with cooking spray and bake for 25 minutes on the top rack, turning once halfway through.
While crab cakes are baking, heat olive oil in large skillet over high heat. Season both sides of the filets with salt (if desired) and cracked black pepper. When pan is very hot and oil is beginning to smoke, sear steaks on one side for 4 minutes. Turn steaks and sear for 3 minutes on other side. Remove from pan and set aside loosely covered with foil.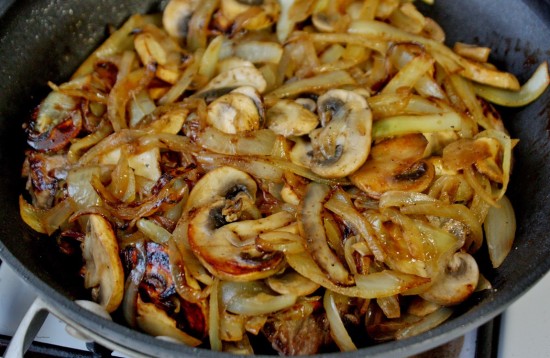 Make Sure Your Mushrooms & Onions are Both Caramelized
Turn heat down in pan and add the mushrooms and onions. Sauté until both are slightly caramelized. Deglaze the pan with the broth and cook until almost all of the liquid is reduced.
Serve the steaks with the mushroom and onion mixture on top and a crab cake on the side.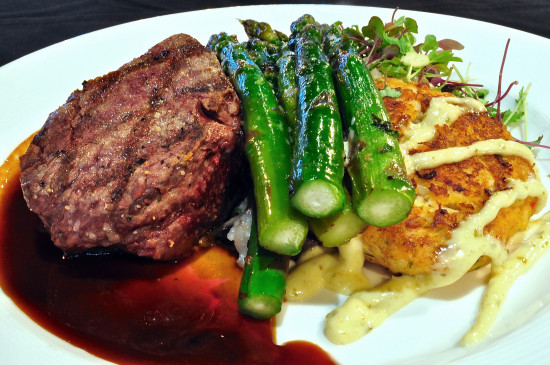 Boaters, Try This Recipe!
EAT FRESH – BUY WILD!