Seattle Summer Superyachts Welcome to the PNW!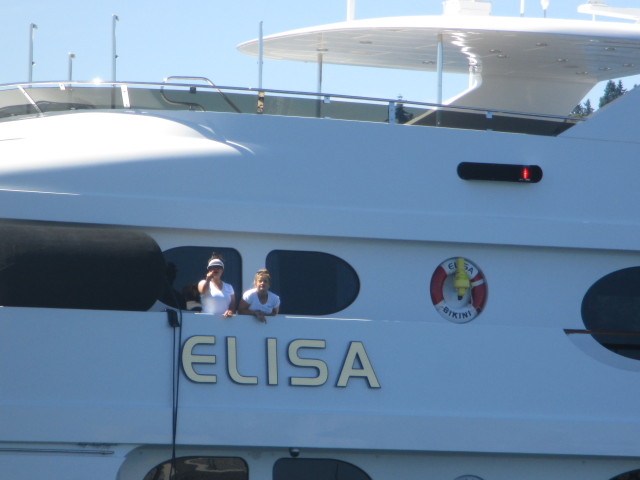 ELISA, Christensen Superyacht, 45m motor yacht just arrived in Seattle
ELISA, Christensen Superyacht just arrived in Seattle WA.  She just made her way through the Ballard Locks, at the time of these featured images and YouTube Video – she was standing by to stand by for a Ballard Bridge lift.  These hovering Captains of superyachts do so right in front of our Salty Dog floating acres – this involves lots of conversations with boats across the canal.  Elisa Captain is doing a good job dodging fishing boats that are dropping strings of pots, seiners, tugs, barges, sailors, party powerboats, skiffs, crew boats and kayakers.
Friday's in the WA Ship Canal are always bustling with boat activity.  Next up for Elisa after she clears the Ballard Bridge is a lift for the Fremont Bridge then home free in Lake Union.  Superyachts in the Pacific Northwest are arriving lately like crazy – we welcome all superyacht owners & crew!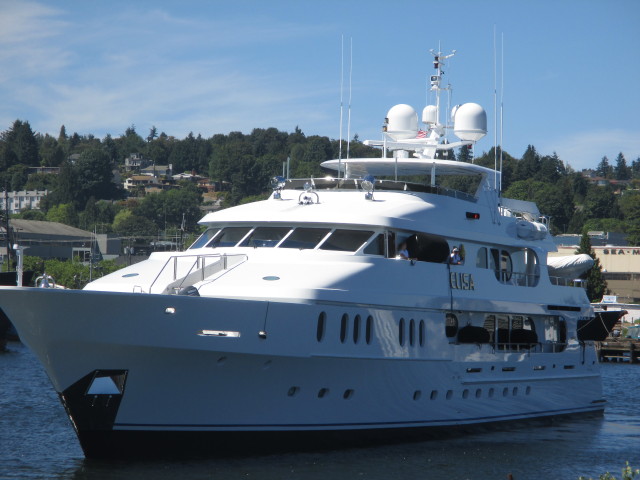 ELISA, Superyacht Christensen Built, Welcome to the PNW! 
Elisa is built by Christensen, formerly Mystic, 2003 she was built-in Vancouver WA – USA, 45.7m – (150 ft.)  luxury superyacht.  Elisa is known for her sophisticated exterior and high-end engineering philosophy of Christensen yachts.
Elisa yacht is a grp hull with a grp superstructure with a beam of 27'10″ft (2.10m), draft of 6'10″ft and three decks made from teak.  Thats a lot of teak work for the crew to keep up on and maintain.  Elisa cruising speed of 16 knots, maxing out at 19 knots unless you are running on a great tide she bumps up a bit.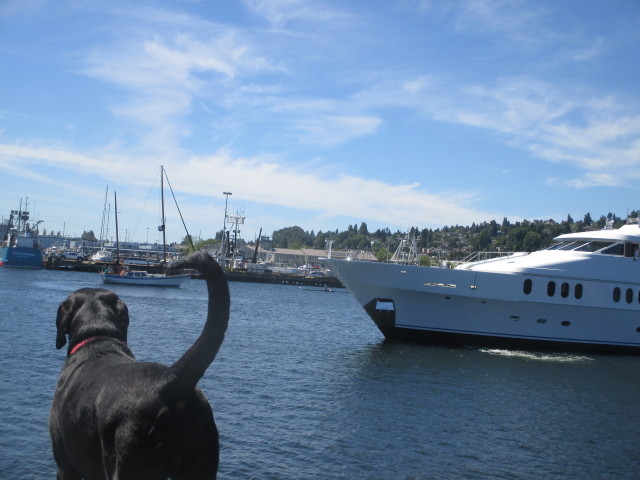 ELISA, NW Superyacht, Salty Dog Boating News – Our Mascot on the look out!
Superyacht Elisa arrived to Seattle around lunch time on a perfectly sunny NW Friday.  We had a across the canal chat with the stews on board, our Salty Dog is on the look out always in the ship canal across from Fishermen's Terminal, home of the PNW largest AK commercial fishing fleet.
Elisa crew should you need anything while in the PNW feel free to email us at:  boating@saltydogboatingnews.com – Also check out:  www.yachtingpioneers.com  & or nw@yachtingpioneers.com – Yachting Pioneers is our NW Lunch Club for Seasoned Maritime colleagues – visit our site for members assistance.  All of our Yachting Pioneer Members are happy to help with marine needs and NW sourcing.  WELCOME TO THE PNW – worlds best summer cruising grounds!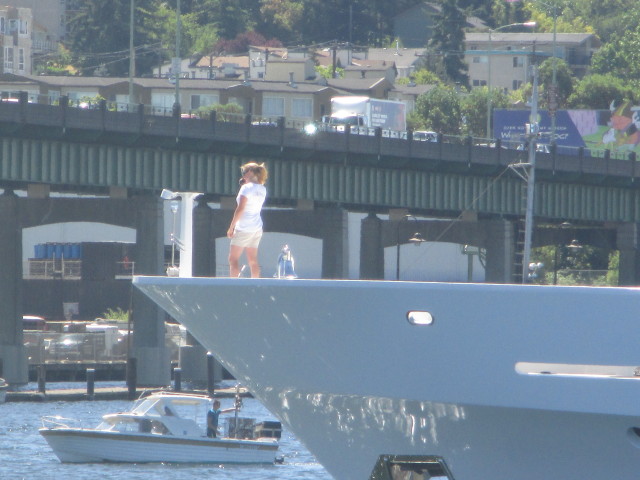 ELISA, Captain Dodging in Seattle Ship Canal – fishermen, sailors, powerboats…
Superyachts in the Pacific Northwest are reaching an all time high for mega yacht traffic.  June of this year has been an abundant month of superyachts arriving through the Ballard Locks of Seattle.  Washington is known for its endless cruising grounds, natural canvas of wildlife and fishing, volcanoes, Seattle's music scene and cultural diversity, amazing seafood, volcanoes, farmland, waterfalls, mountains, rivers, lakes, bays, sounds, and wonderful hospitality of northwest locals and natives.
The San Juan Islands of Washington's coast are extremely popular for cruisers from all over the world with buzzing and hopping marinas, brilliant anchorages, seaside dining, and mother natures gorgeous natural landscape of endless natural beauty of lush green trees that meet the water's edge.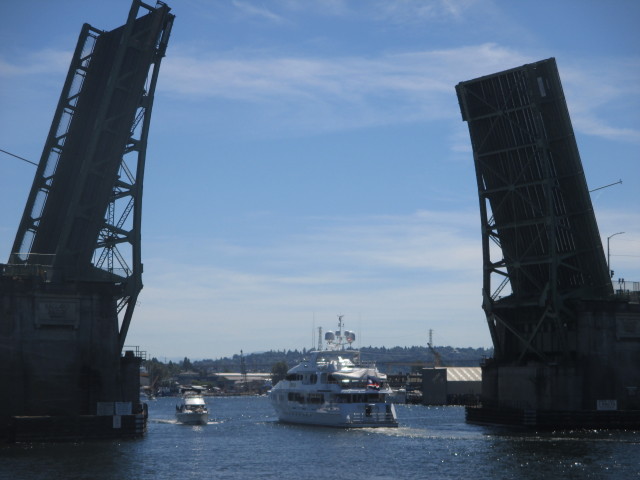 ELISA, Seattle Superyacht just go her Ballard Bridge Lift – way to go Capt!
For years now we have been hearing the scuttle-butt that some superyacht captains don't want to make their way through the Ballard Locks, to the Ballard Bridge and wait for a lift then next up the Fremont Bridge with another bridge lift.  In the Pacific NW from the Puget Sound to Lake Union the locks and NW bridges are a way to boat life.
Commercial fishing is a way of life to thousands of fishermen who call Seattle and the Pacific NW home.  There is something about NW boaters that makes them 'take a chill pill' when running any boat in NW waters.  Boaters in the NW just seem more aware of their surroundings and aware.   Our dramatic tides, seasons and weather conditions have a way of educating NW boaters very quickly!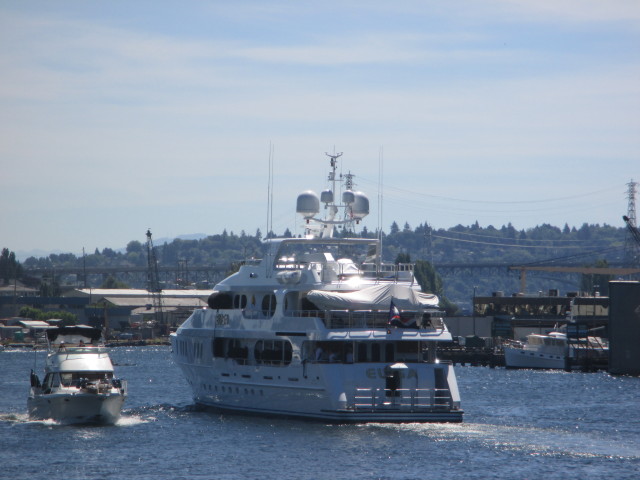 ELISA, Superyacht arrived in Seattle, Next Bridge Lift – Fremont Bridge
Superyacht ELISA – welcome to the Pacific Northwest!  
Captain & Crew – 1st time to Seattle:  Salty Dog Recommendations:
1. Bar Hopping in Ballard – hundreds of resteraunts & bars to choose from!
2.  Late night dinner at – 13 Coins Restaurant, 125 Boren Ave.  Seattle –  70's throw back!
3. Run around Greenlake – 2.8 mile path – dogwalker & runners paradise in the NW!
4. Pikes Place Fish Market – buy Wild AK Sockeye Salmon – salmon candy is amazing!
5. Steak Dinner:  The Metropolitan Grill, 820 2nd Ave – steaks are freaking delicious!
6. 1st Thursday of Each Month – Seattle Art Walk through Poineer Square!
7.  By boat or diny, Ivar's Seafood Restaurant – 401 Northlake Way – delicous bowl of Ivar's NW Clam Chowder!
8. When cruising by Salty Dog Floating Acres – aways give a 'hoop-holler & fun wave!' 
Superyachts Enjoy the PNW!