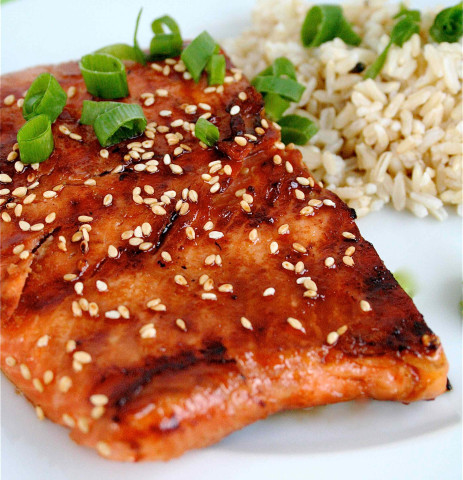 Wild Salmon Grilled, Ginger Glaze, Salty Dog Recipe PNW
Grilled Wild Salmon with a Ginger Glaze Salty Dog Recipe, Brought to you by Salty Dog Boating News, Salty Dog Maritime Marketing. Salty Dog Maritime Marketing are seasoned, dedicated maritime marketing experts.  We specialize in all facets of the marine industry and community; within PNW and AK Fisheries, work boats, superyachts, pleasure craft and passenger vessels, the Maritime Marketing Source!
Fresh Wild AK Salmon, Enjoy: This simple recipe will give you and your guests a brand new twist on salmon, and it's a lot simpler than it might sound. Just fire up the grill, combine the rest of the ingredients as directed, glaze on, and you're done! The flavor of Alaskan salmon depends upon fat content and the environment in which it matured. Alaska's icy, pure waters and the abundance of natural food give Alaska salmon unparalleled flavor. The fat content of salmon depends not only on the genetic makeup of each species, but also on its spawning cycle. The longer and more vigorous the freshwater trip, the more fat the fish will carry as it leaves the ocean.
Ingredients
4 (8 ounce) fresh salmon fillets
Salt to taste
1/3 cup cold water
1/4 cup seasoned rice vinegar
2 tablespoons brown sugar
1 tablespoon hot chili paste
1 tablespoon finely grated fresh ginger
4 cloves garlic, minced
1 teaspoon soy sauce
1/4 cup chopped fresh basil
Sesame seeds (optional)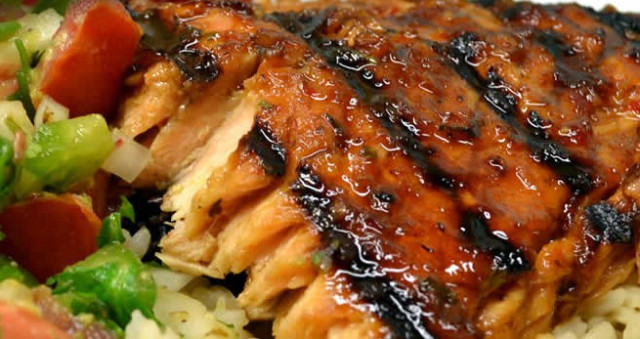 Preparing the Meal, Fresh Wild Salmon
Preheat grill for medium heat and lightly oil the grate.
Season salmon fillets with salt.
Place salmon on the preheated grill; cook salmon for 6 to 8 minutes per side, or until the fish flakes easily with a fork.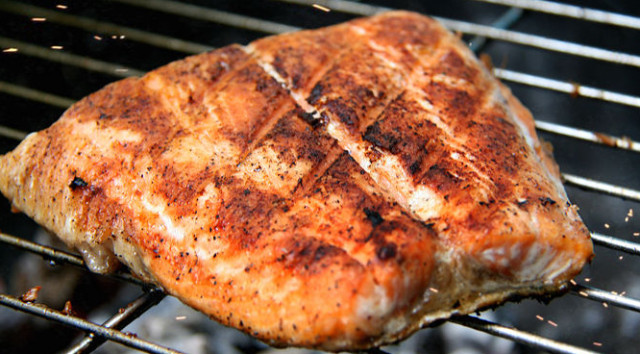 AK Wild Salmon, Grill Until Fish Flakes Easily With a Fork
Combine water, rice vinegar, brown sugar, chile paste, ginger, garlic, and soy sauce in a small saucepan over medium heat.
Bring mixture to a boil, reduce heat to medium and simmer until barely thickened, about 2 minutes.
Salty Dog Recipe: Sauce Should Be Just Barely Thickened
Sprinkle basil on top of salmon; spoon glaze over basil. Sprinkle on sesame seeds to taste if desired, and enjoy.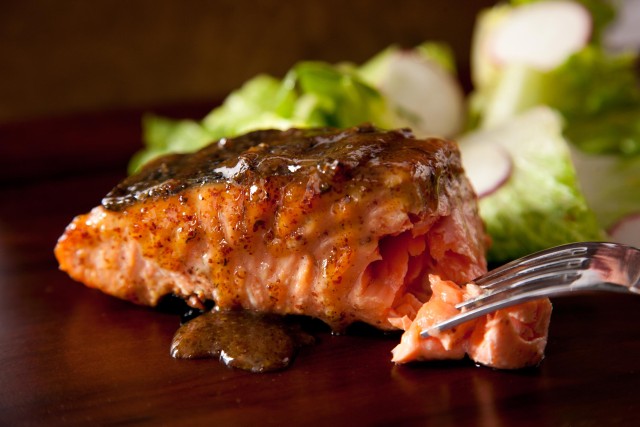 PNW, AK Boaters & Fishermen, Try This Salty Dog Recipe!
EAT FRESH – BUY WILD!