Alaska Salmon Tender Season is here.  Most have already left early spring to run uphill to Alaska as the fish plan to run early this year in AK waters!  Leave it to Franklin to bring on wild sea stories. Third generation fishermen Captain Jon Franklin owner of F/V Oregon, the boat was built in 1946.  Jon bought the boat in 1991.  "They were going to make a reef project out of it in South Carolina.  It belonged to South Carolina Fish and Wildlife, they auctioned it off to a fellow who bought it.  He had dreams of making it into a shrimp processor and spent two years of moorage on it then decided to get rid of it.  I found the boat in 'Boats and Harbors' publication, soon after we were on our way to the Dominican Republic…….." describes Jon.
Stories By:  Captain Jon – Vol. #1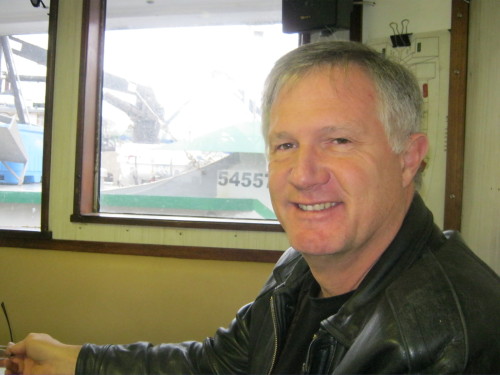 Above Video,  Captain Jon of the F/V Oregon –  Sea Story Highlights Include:
In the Dominican Republic –planning to spend 4 days swapping  paint for parts
Watchmen decided to put some stowaways on my boat
5 guys hidden under the hatches, crammed into 3ft high
Fishing stowaways out –  1st guy out was the baddest guy, he started swinging
Riots on the Beach – shooting flare guns at us
Lieutenant in charge didn't speak English very well, Jon's hand gesture misunderstanding
Pulls the 9mm and points it right at Jon's head
They  take them all off the boat at gun point – they arrest everybody
Lucky Call to Ships Agent – who hears what's all going down, they spring us and put a guard on the boat
As in all good 3rd world counties – someone has to get their palms greased it costs Jon $400 –  To make it all go away!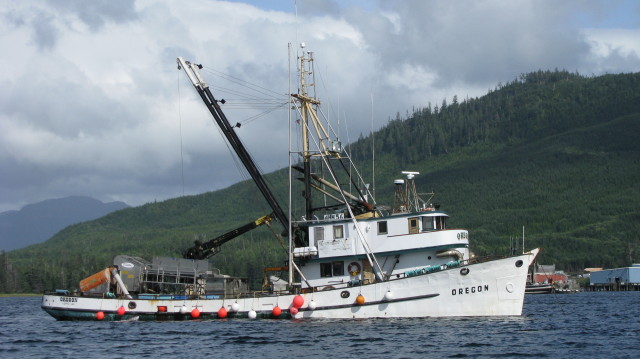 F/V Oregon, Trident Seafoods Tender, SE Alaska 
F/V Oregon is currently a Trident Seafoods Tender in SE Alaska – she has made 4 transits through the Panama Canal, been as far south as Argentina on the Atlantic as far Northeast as Georges Bank,  and as far south as 50th south in the Pacific Ocean as far west as Palau.  The boat packs 300,000 pounds in 6 tank of refrigerated sea water.  Her LOA is 100 ft. with a bean of 26' ft, running time she'll burn 9 – 10 gallons per hour, the engine room is bigger and taller than most downtown metropolitan condo's, built in the 1940's she's an oldie and a goody they don't make boats like the F/V Oregon anymore, rich in history, tradition and salty seasoned sea time.
F/V Oregon – WOW, Somewhat oversized engine room!
Titanium Chiller – capacity of 60 tons
10 fuel tanks
16,000 gallons fuel
2,000 gallons fresh water
800 hp v12 Cummins K238
530 twin disc 5:1 gear box
2 – 105kW Caterpillar generator sets
The main engine was out of a Fast Ferry in Singapore and I brought it out of Vietnam – from a Broker in New Brunswick.
Deck Pumps = 350 gal. min. Teels -self primers
Recor Filters exclusively on the boat – all the same filter for everything …
This engine is so smooth and so quite on deck you can hardly hear it – it's quieter than most cars.
When the boat was a research boat for South Caroline and before that it was a NOAA boat.  This boat was with Fish and Wildlife Service from 1950 to 1964.  In 1968 it was brought back out here to Alaska where is did the majority of the early Trawl Surveys for Cod and Pollock on the Alaska Peninsula and the Bering Sea, AK.
WHO WANTS TO GO FISHING IN ALASKA?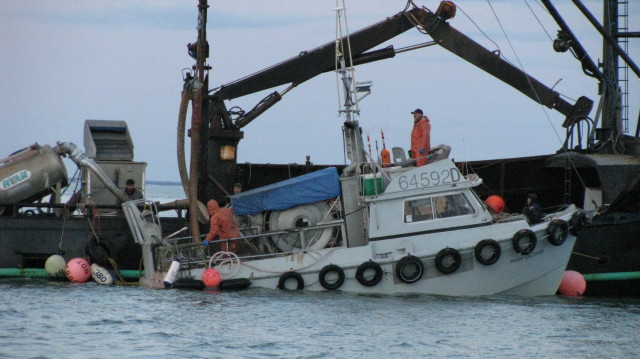 Bristol Bay Alaska, Salmon Gillnetters, sunk their nets & happy to Tender offload!
Tricks of the trade – Maritime Master Captain Jon Franklin!
Stay tuned for more Salty Sea Stories by Captain Jon, he's still smiling!