Pacific Marine Expo, CenturyLink Field Event Center, Seattle, November 16 – 18, 2017; Attend the largest commercial marine tradeshow on the West Coast, serving commercial mariners from Alaska to California.  If you make your living on the water, you just can't afford to miss it! Attend industry education on safety, management, regulatory matters and technological advancements, plus live demos, Fisherman of the Year Contest, the Fisher Poets, and daily happy hours.

For Exhibitors: Buyers from Alaska to California visit Pacific Marine Expo looking for everything they need, from bow to stern, literally.  This is your best opportunity to reach the maritime industry and grow your business this season and many seasons to come.
Pacific Marine Expo Attendees Include: Alaska, Pacific Northwest and West Coast Fishermen, captains, crew, deckhands, seafood fisheries, commercial vessel owners and commercial vessel operators, passenger vessel owners and operators, charter boat owners, shipyards, commercial boat builders, recreational boat builders, boat engineers and vessel architects, superyacht captains and superyacht engineers, seafood processors and deck crew, port officials, port engineers, harbormasters, dockmasters, marina operators, marine surveyors, US military buyers, US Navy and USCG buyers, and every other workboat and commercial fishing affiliated with the marine industry specializing on the west coast from Mexico up to Alaska.
The annual Pacific Marine Expo is a once a year industry event that brings together commercial fisherman, workboats and mariners from across the Pacific Northwest to do business, get industry updates, get new gear for the season and connect with old and new friends, the Pac Marine Expo always feels like a maritime industry happy, fun, story time reunion.
International WorkBoat Show, New Orleans, November 29 – December 1, 2017, Morial Convention Center; It's another maritime industry tradition that returns to New Orleans. In 2017 dive deeper with the re-envisioned conference program, featuring high level education and networking opportunities custom designed to focus on three sectors of the WorkBoat industry: Shipyard, Offshore, Inland and Passenger Vessels.
All International WorkBoat Show attendees are invited to take part in the Maintenance & Repair Day, the all new, re-envisioned version of WorkBoat Maintenance & Repair! This extensive one-day program will offer a myriad of key learning and examples from case study presentations and panel discussions, to roundtable talks and a networking happy hour all within The International WorkBoat Show. The Happy Hours are not to be missed in New Orleans!
At this WorkBoat Show in the south, come prepared to experience many new and exciting additions to this year's show. From the all new Collaboration Zone, 'Back Deck Bar' and 'Wheelhouse Tavern', to the cutting edge 'Supplier Solutions' and major upgrades within the WorkBoat Annual Conference, you'll be amazed and delighted to find everything you need to give your commercial marine business an edge in 2017 this season and many more.
Commercial Boat Photography By: Salty Dog Boating News, Salty Dog Maritime Marketing, PNW, Salty Sea Gal, AK Marine Traffic Commercial Underway Source: Inquiries at: boating@saltydogfishingnews.com Support our PNW & AK Fishermen and their families, eat fresh, buy wild!
Pacific Marine Expo, CenturyLink Field Event Center, Seattle, November 16 – 18, 2017
International WorkBoat Show, New Orleans, Nov 29 – Dec 1, 2017, Morial Convention Center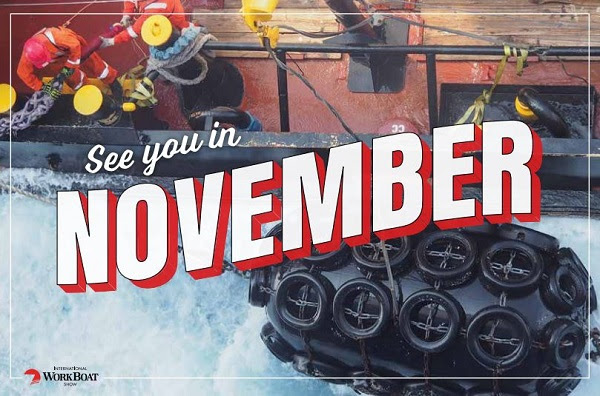 EAT FRESH – BUY WILD – Coast to Coast!