Deadliest Catch Boats call Ballard WA and Pacific Fishermen Shipyard – home in the lower 48!  The popular slogan of Pacific Fishermen Shipyard in Ballard, WA is described by Doug Dixon:  "The Sea Has No Back Door! – We maintain vessels' seaworthiness for the Bering Sea. In the Bering Sea, when you're out there in the back of the Bering Sea and the weather comes down on you, there is no back door you can run out of  – so 'the sea has no back door' is our motto in maintaining seaworthiness since 1946," says Dixon.
Doug Dixon is the General Manager of Pacific Fishermen Shipyard, and he's clearly smart as a whip with a very cheeky sense of humor and pep in his step as he buzzes around the yard.  "I see over the shipyard activities and electrical activities of Pacific Fishermen Shipyard.  I'm a shareholder. I bought one share for $900 – they upped it from $300. Now they sell for a little over $6,000 a share.   The rule was you could only have one, then when the guys started dying off, the wife would inherit the guy's shares. Then we changed the rules that you could have two shares and the widows could keep the extra share.   Then we had hard times back in early 2000's, and we wanted to sell 250 shares out of the treasury. But we had to give the people who had two shares the opportunity to buy two more shares; now today, you can own a maximum of up to four shares," Dixon says with a big smile under his hardhat.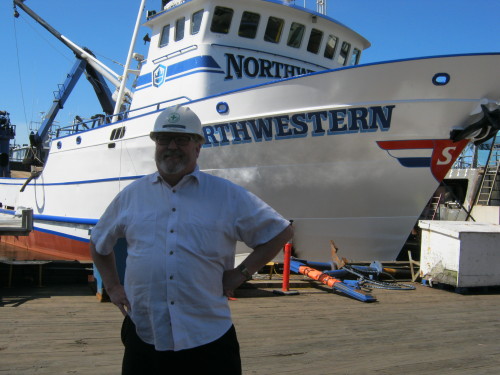 Pacific Fishermen Shipyard, Doug Dixon & the F/V Northwestern 
Pacific Fishermen Shipyard is located in the heart of Ballard near the Ballard Locks. It was started in 1946 by 400 Norwegian American Fishermen and their wives, who pitched in $300 each to buy the Old Ballard Marine Railway.  This would ensure they would have a place to fix their own boats.   This Shipyard has quite a history of boat building: it used to build for Ed Monk – they built seiners, after they built wood seiners. Next then they moved on to build steel crab vessels, such as the Ben Jensen's design's in the 1960's – the 86' and 92' ft. series; house aft and house forward.  Chuck Bundrant, owner of Trident Seafoods, built his first out of this yard as well as Icicle the 'Adventure and Viking Queen' was built.
"We have a board that meets once every 2 months; a board of 9 old Norwegians that boss me around – now when I say old, actually we aren't that old; we are now on to our second generation.   We have guys on the board like Cory Swanson, Gunnar IIdhuso, Lance Farr and I guess we aren't that old. The third generation is coming through next," describe Dixon with a chuckle.
The Pacific Northwest has seen some of the largest sophisticated superyachts in the world; with endless cruising grounds from the greater Puget Sound, Canadian Coast, all the way up to majestic and powerful Alaska.  "In the early 2000s we started chasing the superyachts. We've been quite successful. Some familiar names you might have heard of- a guy by the name of Paul Allen, Boeing, Nordstrom, a fellow by the name of Bill Gates and his various vessels… you know, small boat owners, that's our normal clientele.  We are members of the US Superyacht Association (USSA) out of Fort Lauderdale, FL.  The Yachts are 10% of our businesses, and we don't do yachts unless they are large. And it's usually a corporation, we're a commercial yard," describes Dixon bringing out his cheeky humor and serious disposition at the same time.
Pacific Fishermen Shipyard's main features include three haul out facilities and docks on the freshwater side of the ship canal locks, a 100' x 200 ton marine railway, 160′ x 600 ton marine railway, and the original Rowe 145′ x 600 ton screw lift dock with 145' covered sidetrack track rails, which provide for extended out-of-the-water climate controlled repairs on dry land. All three facilities are equipped for hull cleaning, high pressure washing and sandblasting, with full environmental containment and on-site shipyard runoff wastewater reprocessing.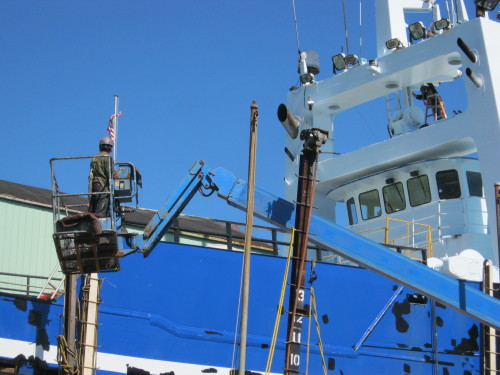 "We do a lot of heavy woodworking, heavy skilled tradesmen shipwright work. In addition to that we have our aluminum and steel welders, we have our machinists, and our shipwright's dry dock crew that does all the maintenance on the boats. And our electricians do a lot of sophisticated electrical work, not only for yachts but for factory trawlers; a lot of process control for factories like 'Theo Chocolates,' for example, we do all their mixing controls," says Dixon.
This shipyard is known for its extensive heavy steel fabrication, sandblasting, piping, wood joinery, oakum caulking, and full service machine shop that give the vessel owner access to a one-stop repair and maintenance facility.  Capabilities are available for the rapid start of off-site work using a City of Seattle roving pre-approved fire permit for onboard welding and hot work.
Doug Dixon has been at Pacific Fishermen Shipyard since 2001. Prior to this, he was over at Marco building boats, he was a crab boat designer. "One of the boats I worked on was the F/V Northwestern, you might recognize it," describes Dixon, making himself smile on his own.  A walk and talk around the yard with Dixon is loaded with multi-tasking, giant Norwegians cracking jokes and busting each other's chops, as well as a heck of a lot of specialized technical ship work getting done to get these boats back out to sea and prepared for any and all that mother nature has in store. For any of us who have splashed around in the Gulf of Alaska, the Bering Sea or Bristol Bay, you know that some seasons the sea will demand respect, discipline, and passion to endure all facets of instance weather conditions that keep you coming back for more… with faith and whole hearted trust in the boat, captain and crew.
 For Details Visit:  www.pacificfishermen.com

"The sea has no back door!" – Doug Dixon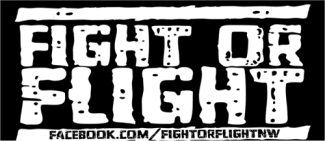 Music Provided By:  FIGHT OR FLIGHT