M/Y VAVA, Superyacht – arrived in Seattle WA on May 9, 2014.  She's a £100 million superyacht commissioned by Britain's richest woman.  Now in 2015 we shall see if this superyacht makes her way back to the Pacific Northwest.  The NW superyacht high season starts every year in May!  This massive superyacht luxury vessel is the biggest the Britian has ever seen.  It was constructed for former Miss UK Kirsty Bertarelli over two years in Plymouth, Devon, and boasts a helipad and six decks.  Mrs Bertarelli and her Swiss husband Ernesto had the 96-metre Vava II built to replace their previous 47m ship.  (FYI:  READERS – we wrote this story in May of 2014 & it's still one of our daily TOP viewed stories on Salty Dog Boating News – readers are obsessed with learning about this boat & its owners – enjoy – more Superyachts to come this summer in the PNW!)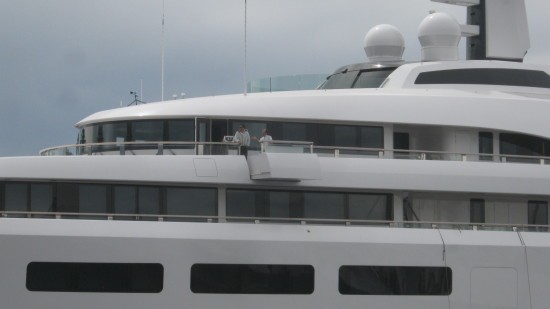 M/Y VAVA, The Captain taking the boat under the Ballard Bridge, just arrived in Seattle
VAVA costs nearly $400,000 just to fill the fuel tank.  She is the 33rd largest yacht in the world and has a helicopter landing pad, lavish guest cabins and four boats to carry passengers to shore.  The Bertarellis are no strangers to the sea.  Ernesto, is the fifth richest man in Britain, has twice won the America's Cup yacht race.  Together, this married couple is worth about $11 billion.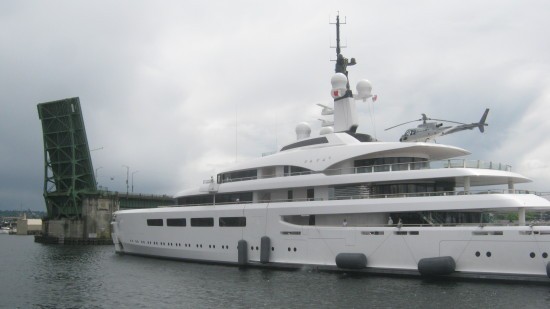 M/Y VAVA, Superyacht arrived in Seattle today! Britian's Richest Women!  You Go Girl!
The mega yacht VAVA II – by Pendennis Plus reportedly cost USD 160 million (£100 million) to build and took 200 craftsmen more than two years to complete. The new VAVA II motor yacht is owned by Swiss/Italian pharmaceutical tycoon and billionaire Ernesto Bertarelli and his wife, songwriter and former Miss UK Kirsty Roper also known as Britian's 'Richest Women' – YOU GO GIRL!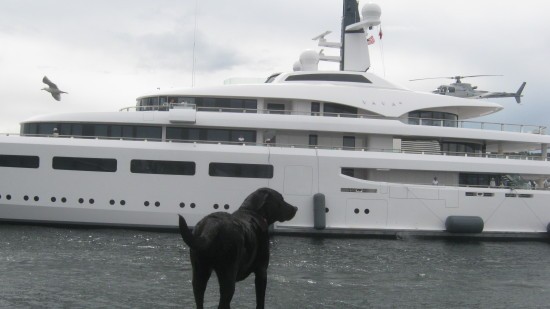 Our Salty Dog can't believe how freaking huge Superyacht  M/Y VAVA is – she's a big girl! 
The VAVA II luxury superyacht is the largest ever private motor yacht to be built in the UK, England and Britain. She has been built from steel with an aluminium superstructure and complies with SOLAS codes, able to accommodate 36 guests. She would make a magnificent charter yacht if she was ever put on the charter market.
This superyacht has an array of features including large tender garages aft and forward, fold-down beach club and variable depth swimming pool. The plumb and straight bow is being seen on more yachts not just restricted to concept designs. The ultra-secretive Vava II ex. Project 55 is now a reality.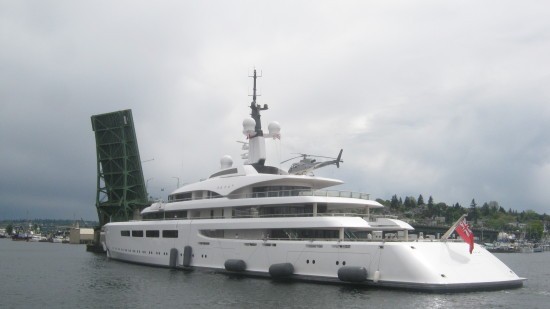 Superyacht VAVA II, Passing Seattle's Fishermen's Terminal Going Under Our Ballard Bridge!
M/Y Cakewalk, 86 meter superyacht – those who though the yacht Cakewalk was huge and massive; well 96 meter VAVA like watching a 7 story tall building cruise by – as we look out our waterfront office big window on this overcast dark Friday afternoon this time is wasn't a cloud covering what little sunlight we had it was the big girl – superyacht VAVA!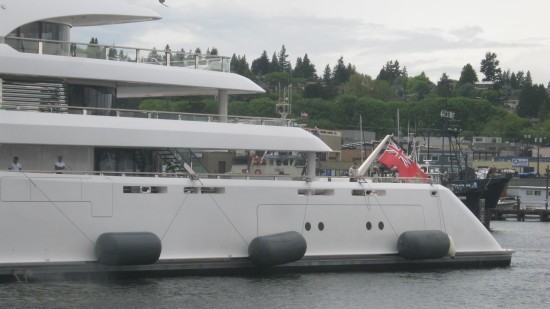 VAVA Superyacht, so huge she dwarfs our Alaska Fishing Trawlers & Processors in Seattle!
The largest motor yacht ever built in Britain, M.Y. Vava II at 96 metres has now sailed for the Caribbean for the enjoyment of its owne.
Mr Bertarelli, now 45 years old, took over the family firm, the multinational Serano pharmaceutical company, 13 years ago after his father's death.  It was then sold to a German company Merck in 2006 for 13.3billion US dollars. In 2008, Mr Bertarelli launched the Ares Life Sciences investment fund, which backed the £670 million buyout of medical services provider Euromedic.
Mr Bertarelli also likes sailing and served on the crew of his Team Alinghi boat, when it won the won the 2003 and 2007 America's Cup. His £6.8 billion fortune makes him the 81st richest man in the world, the fifth richest in the UK and his British born former Miss UK wife, Kirsty, the richest woman in the country.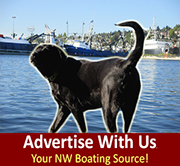 Contact Us Today!

VAVA, Owners – Captain & Crew!  Welcome to the Pacific Northwest!  We hope you enjoy our warm NW hospitality and majestic passages, cruising grounds and mother natures finest of wild seafood!