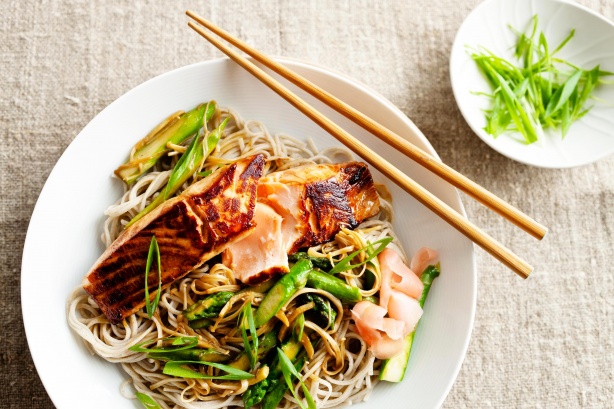 Miso-Glazed Sockeye Salmon with Soba Noodle Salad – East Meets Western Salmon 
Support our Bristol Bay Fishermen & their families: eat fresh, wild seafood! Salty Dog Boaters, Try This Chef's Recipe: Miso-Glazed Bristol Bay Wild Sockeye Salmon with Soba Noodle Salad. The pungent yet balanced flavors of Asian cuisine pair wonderfully with the bold flavor of Bristol Bay sockeye salmon. This dish draws on classic ingredients from Japan, miso and soba noodles, and Thailand, peanuts and lime. Most grocery stores that carry one of the Asian ingredients used here will likely carry all of them.
Ingredients
4 wild sockeye salmon fillets, 6 ounces each
Ingredients for Glaze:
1/3 cup light yellow miso paste
1/4 cup mirin
1 tablespoon chili garlic paste
Ingredients for Dressing:
1/4 cup unsweetened peanut
3 tablespoons soy
1 lime, zested and juiced
1 small shallot, peeled
2 tablespoons toasted sesame oil
1 tablespoon sriracha
1 tablespoon honey
1 tablespoon rice wine vinegar
Ingredients for Soba Noodle Salad:
9 ounces dried buckwheat soba noodles (one package)
1/2 cup + 2 tablespoons sliced green onions
1 cup unsalted roasted peanuts
1 cup shredded carrot
1 English cucumber, halved and sliced thinly (approximately 2 cups)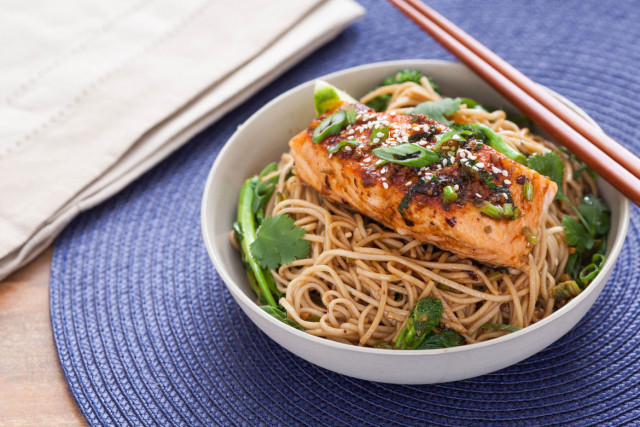 Preparing the Meal
Preparing the Glaze: Combine all the ingredients, then spread evenly over the salmon fillets, cover and refrigerate for at least one hour (or up to four).
Preparing the Soba Noodle Salad: Blend the dressing ingredients in a food processor, stopping occasionally to scrape down the sides with a spatula. Bring a large pot of water to a boil and season with salt. Cook the soba noodles until just tender throughout, approximately 4 to 5 minutes. Drain the noodles in a colander and then return to the pot. Run cold water into the pot while stirring the noodles until they are cool to the touch. Drain again and transfer to a large bowl. Add the peanuts, carrot, cucumber and ½ cup of green onions then toss with the dressing.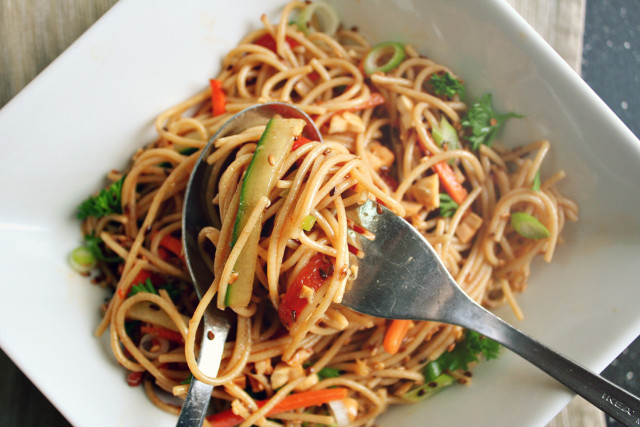 Toss the Noodles, Dressing & Other Ingredients Throughly
Preparing the Salmon: Adjust your oven racks so that one is in the middle and another is at the top under the broiler, then preheat to 350° F. Remove the salmon from the refrigerator and allow it to sit for 15 minutes to come closer to room temperature. Arrange the fillets on a parchment-lined sheet tray and, using your fingers or a brush, ensure that the glaze is spread evenly over the fillets. Cook the salmon for about 8 minutes until just starting to turn opaque in the center. Remove from the oven and immediately turn on the broiler. Once the broiler is hot, place the tray underneath for two minutes to lightly caramelize the glaze.
Putting It All Together: Pile soba noodles in the center of the plate, place a salmon fillet on top and garnish with the remaining green onions.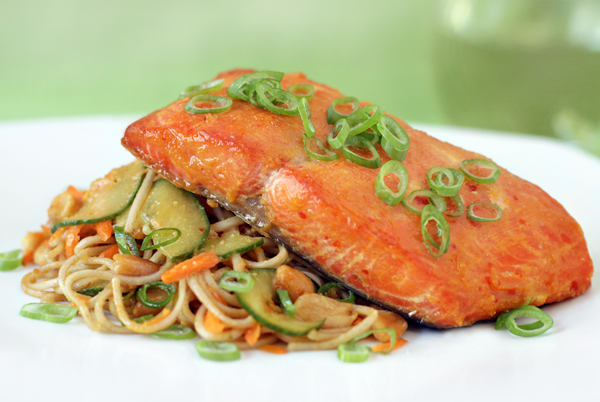 Boaters, Try This Recipe!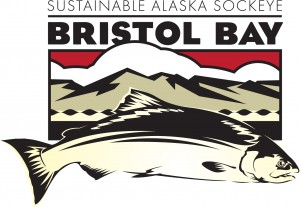 Recipe by the Bristol Bay Regional Seafood Development Association
bristolbaysockeye.org
EAT FRESH – EAT WILD CAUGHT!